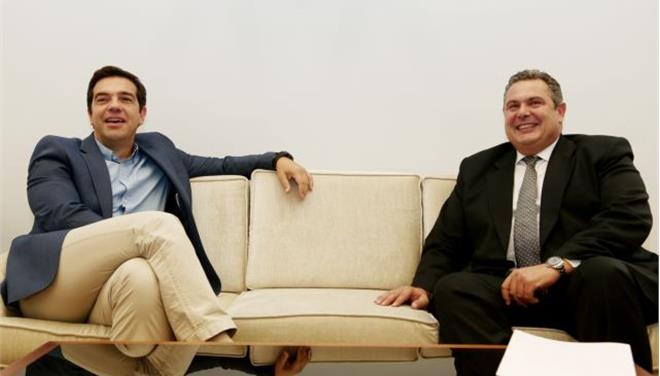 Athens, April 1, 2015/ Independent Balkan News Agency
By Spiros Sideris
Significant increase in the popularity of Prime Minister Alexis Tsipras and the President of Independent Greeks Panos Kammenou show the results of the latest opinion poll.
According to the survey conducted by the University of Macedonia in Thessaloniki, on behalf of the television station SKAI, the Prime Minister gathers 69.5% positive and very positive opinions, an increase of 42% compared to the previous measurement (January 10-12, 2015), while Kammenos gets 35%, an increase of 23%.
In contrast, the popularity of the President of New Democracy Antonis Samaras was recorded at 13% (down 15%), the head of The River Stavros Theodorakis 21% (down 5%), the president of PASOK Evangelos Venizelos at 9.5% (down 3%), the Secretary General of KKE Dimitris Koutsoubas at 18.5% (down 1%) and the president of Golden Dawn Nikolaos Michaloliakos at 4.5% (down 1%).
At the same time, 55.5% of respondents feel that the followed negotiation strategy is correct, versus 27.5%.
As to what respondents think about the meeting of the Prime Minister with the German chancellor in Berlin, opinions are shared, since a percentage of 45.5% of the respondents say that Tsipras showed courage bringing forward on German territory the issue of Siemens and German reparations, while 45.5% also report that he appeared conciliatory, stating that the country is committed to implementing those required for continuing the funding.
When asked what emotion causes to you a possible Greek exit from the euro, 45.5% of respondents said fear, 11% hope, 26.5% no emotion and 17% said they did not believe that there is such possibility. In a previous survey on March 16-17, 43.5% had responded fear, 14.5% hope, 26% nothing because it will not bring something different and 16% there is no such possibility.
Finally, to the question whether the respondents believe that the economic situation of their household will worsen over the next 12 months, at a rate of 39.5% say it will neither improve nor worsen, 18.5% that it will probably become worse, 14% that it will definitely worsen, 7% say it will depend on political developments, 4% that it will surely improve and 17% that it will probably improve.
The survey was carried out between March 25-27, 2015, in the whole country, with telephone interviews using a structured questionnaire.