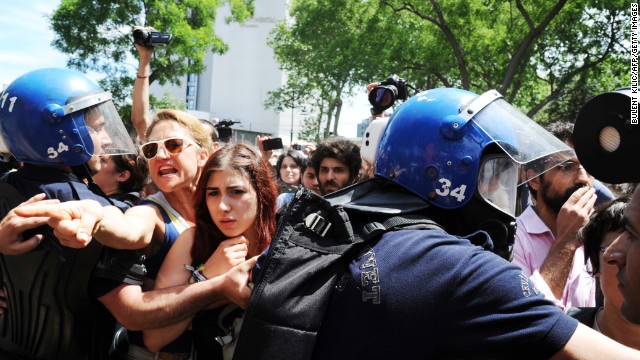 By Manolis Kostidis – Istanbul
Following a meeting with President, Abdullah Gul, Deputy Prime Minister, Bulent Arinc, apologized for the excessive force Turkish police exercised on Taksim Square demonstrators.
"I can state that we apologize for excessive police action on protestors that were exercising their right to protest while expressing environmental awareness. But I don't believe we owe an apology to those who caused damage", he said.
The Turkish vice president said "demonstrations held at the park against the construction of a shopping center were fair, legitimate and right. The use of tear gas by riot police threw the situation out of control."
"There shouldn't exist an attitude that raises fears of intervention in people's lives", he stressed.
Turkish journalists believe Arinc was encouraged to make these statements by President Gul who asked for the situation to be defused immediately.  The Deputy Prime Minister made clear that he had not talked to Erdogan prior to making his statements.
Second man dies in protests
At the time the above statements were made, the dead of a 22 year old protestor in Antioch was confirmed. Abdullah Comert took part in the demonstrations from the beginning, however, according to an announcement by the prefecture, he took a bullet to the head during the protests. Republican People's Party deputy, Hasan Akgul said an autopsy showed the 22 year old man had died from blows to the head!
Before his death, the 22 year old had written on his facebook page: "I've slept five hours in 3 days. They fired tear gas at me countless times. I nearly died three times. And you know what people say? Give up. You think you will save the country? Yes, and even if we don't save it, we will die trying. I'm so tired, I've has 7 energy drinks and 9 painkillers in three days, my voice is gone but I will be at the square again today at 6. Just for the revolution".
However, Interior Minister Muammer Guler said "we can't affors to turn a blind eye to illegal actions. Should we let them take over Parliament?"
A calming Fethullah Gulen message from the U.S.  
The message of Muslim religious order leader, Fethullah Gulen, is expected to play an important role in calming the crisis. He is the Hoxha who has proselytized millions of members.
"Gulen sends peace message to police" most Turkish media wrote.
"It is an important value not to respond with violence to violence and what is important is sympathy. It is sympathetic to pull the ear of someone who unjustly throws a punch", Gulen says.
Turkish daily, Zaman, owned by Gulen circulates one million sheets!
Gulen is considered an influential figure in Turkey. During Erdogan's visit to the US, vice president Bullent Arinc, has altered his schedule and travelled four hours on the road to visit Gulen at his home.
Gulen sent his message six days after clashes broke out.
TV networks apologize
Reporters of the largest TV network, NTV, say that during a staff meeting, the channel's news director apologized to employees for the station's stance during the clashes.
NTV broadcast cooking shows, documentaries about penguins etc, at the time clashes were taking place on the streets. The other television station, Star TV, showed Turkey's beauty pageant! This station too belongs to Sachenk!
Ahmet Hakan – Hurriyet columnist
The Turkish columnist wrote a piece titled "Since nobody explained it, I will" which is essentially addressed to Erdogan and explains the reasons behind the events.
"The country's youth says "don't tell me your opinion on or insult the way I sit in the park, how on behave on the subway, how I live, talk, dress, think, etc. You are not our father, don't act like you are".
Even if you were, there are fathers that can't control their two children. You will control 75 million people? Don't talk about alcoholics, drunks and looters…
You can't be a great architect, moral philosopher, spin doctor and architect of the square, Middle East conqueror, an expert on religion, historian, television critic and an expert on addictions, etc. You must have some fault.
Now, only Reuters reporters can ask you questions that annoy you. Don't attempt to suppress the media any more. Don't fire teargas at us or we will press the accelerator".