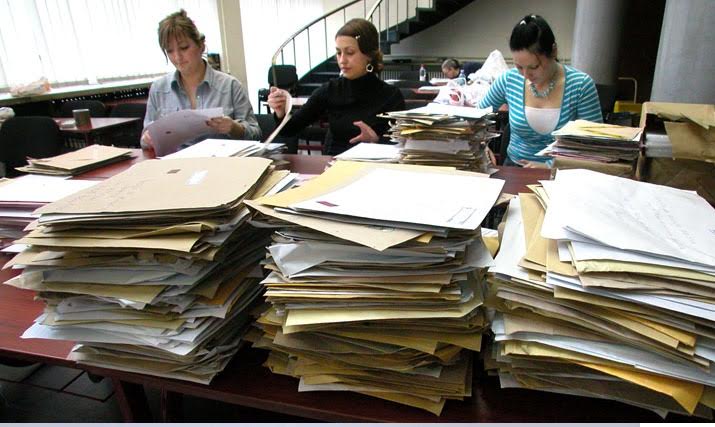 Skopje, 29 September 2015/Independent Balkan News Agency
By Naser Pajaziti
The large and overburdened state administration has turned into a topic of debates in FYR Macedonia.
Based on figures, in a period of 10 years, the administration has trebled in number.  While in 2005, the administration had 65 thousand employees, today, it counts over 180 thousand employees.
Ministry of Information Society and Administration has issued a report where it says that the country has over 128 thousand civil servants employed in 1,354 institutions, including state owned enterprises.
"Our official data do not confirm the claims made in different political circles that aim at misinforming the public. Our information is transparent and is monitored by European institutions in the framework of the Euro integration process", the ministry responsible for the public administration said.
Opposition MP and head of the National Committee for European Integration, Lidija Dimova, declared that be this figure 185 thousand or 128 thousand, these figures indicate that this is a large administration.
"What's our population and how big is our administration? The only purpose of our administration is to employ party militants. In the secretariat on European affairs, there are 600 people employed, while 1,770 people have been employed for the Ohrid Agreement. What exactly are these people doing at work?", Dimova declared, adding that he government doesn't reveal the true figures of civil servants.
According to the Agency for Civil Servants has continuously announced new jobs through contests ahead of elections.
Fatos Rusiti, expert on issues concerning administration and law, told IBNA that the administration is mainly identified through party militants.
"In the recent years, parties in power have turned into the biggest employers in the country, in exchange of votes. Another relevant fact is that we are dealing with an inefficient, politicized and unprofessional administration. One of the key reforms that the European Commission is demanding is depoliticization of the administration and the need for a professional administration", Rusiti says.
A large part of the state budget goes for salaries. Administration salaries for 2016 amount to 420 million euros, excluding local government employees, which are numerous in numbers.
The majority of young people who complete university studies in the country, are very interested to be employed in the administration as this is seen as the best way to secure a stable salary.
Merita L, an economics graduate, told IBNA that the administration is preferred because it offers job security and that the private sector doesn't offer quality and high salaries.
"Yes, I want to work in the public administration, because the salary is higher and there's more job security. Employment in the private sector doesn't offer security and salaries are low. We're hoping for this reality to change", Merita L from Skopje says.
The exact number of state employees will be known next year, as the bill on civil servants comes into effect in February 2016. With this bill, the Ministry for Public Administration is obliged to have a register of employees and publish annual reports on the number of public sector employees. /ibna/