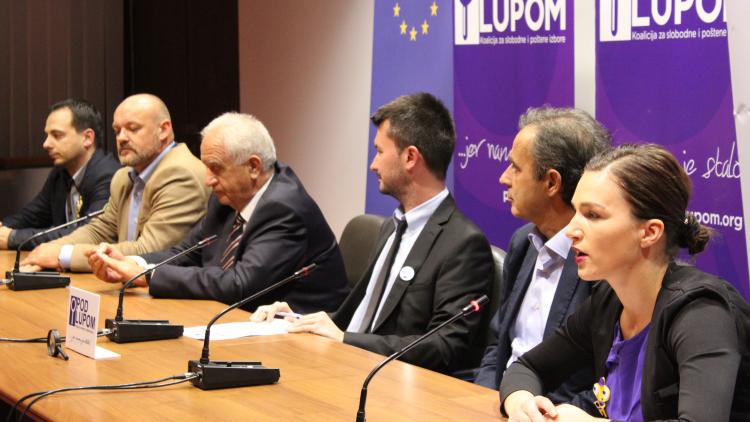 Sarajevo, October 3, 2016/Independent Balkan News Agency
By Mladen Dragojlovic
Independent observers gathered in organization named Coalition "Pod lupom" ("Under the magnifier") estimated that Sunday's local election in BiH were probably most violent in the last decade, since one of the members of Local election commission (LEC) in Stolac, ended up in the hospital in intensive care.
The incident occurred during the voting when one of the candidates for mayor noticed that the chief of Commission changed the members of commissions on the polling stations. Allegedly, he dismissed Bosniaks from these Commissions and appointed Croats instead of them. There was a fight and chief of LEC, Mario Raguz, was transferred to the hospital with head injuries. On Monday doctors decided to put him on the intensive care department.
Elections in Stolac were disrupted and Central Election Commission (CEC) decided to stop the whole process in this municipality. Violent incidents were noticed also on some other places but not with so tragic effects.
According to "Pod lupom" report, at 3% of polling stations problems with accuracy test were noticed, as well as problems with ballot papers being pronounced invalid without following BiH CEC's regulations. At the same number of polling stations, complaints were filed by observers.
"The Coalition's observers, during the Election Day and night, reported 173 serious violations of the Election Law and/or implementation acts of CEC BiH. These violations are related to adding of the votes to the ballot papers during the votes counting in seven cases, discrepancies in the accuracy tests at the elections for mayor at 28 polling stations, discrepancies in the accuracy tests at the elections for town/ city councils at 23 polling stations. At the polling station East Ilidza, copied ballot papers were noticed, about which polling station committee notified Local Election Commission. Incidents during the counting of the votes were noticed in Celic and Gradacac where police had to intervene", the Coalition announced.
According to report, apart for Stolac, there were more thrusts on the members of polling station committees in Pelagicevo, a physical assault on the president of polling station committee at one polling station in Prozor – Rama, two cases of physical conflicts amongst the voters in Ilijas and Visoko as well as open threats directed towards the Coalition's observers.
"The handover of the polling material was organized well, with the exception of six LECs where jams were noticed (Maglaj, Gradacac, Ilidza, Široki Brijeg) and bad organisation of the handover of the polling material (Kalesija, Žepče). Also, it was observed that in Žepče, the material from the polling stations arrived damaged (opened bags)", is mentioned in the announcement.
The Central Election Commission is still counting the ballots and the final results are expected in the next few days. What can be said for now is that Alliance of independent Social Democrats won the biggest result in RS and the Party of Democratic Action in Federation BiH.