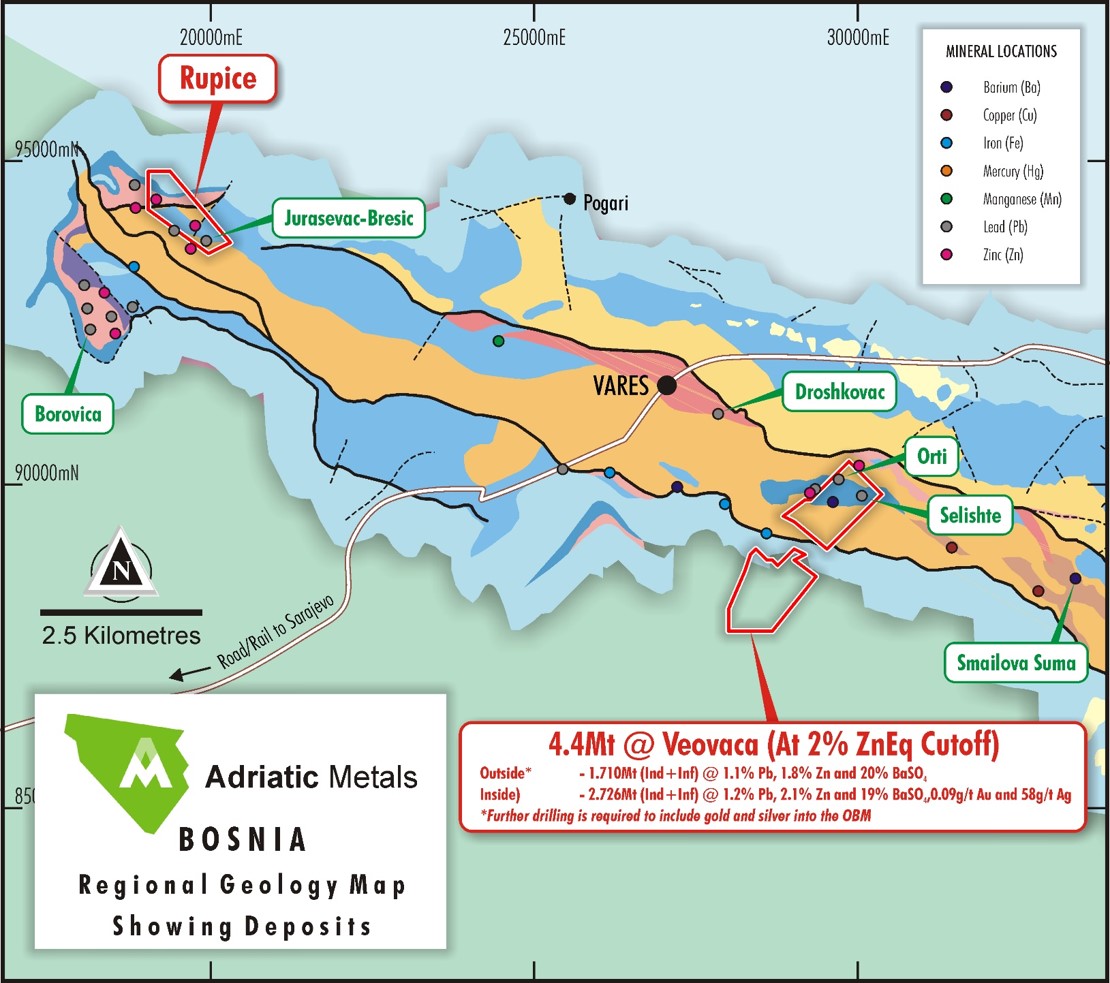 The company "Adriatic Metals", owner of the BiH Company "Eastern Mining", has completed a preliminary assessment of potential polymetallic deposits at Rupice near city of Vareš in central part of the country. In addition, after several months of research, preliminary estimates of resources at the Veovača site, also in the municipality of Vareš, were supplemented. Based on research data, the assessment was made by the company "CSA Global" from Australia. Executive Director of "Adriatic Metals" Paul Cronin points out that the preliminary findings for Rupice and Veovača are very encouraging.
"Historically, few drill holes were assayed for precious metals. Our work since acquiring the project in early 2017 has confirmed that significant resources of precious metals exist within the confirmed base metals resources. The Rupice deposit is world class and our exploration program will be seeking to expand the known mineralisation. Our most recent drill holes suggest that high-grade mineralisation continues to the north and our IP survey has indicated, in conjunction with soil geochemistry that further drilling is required on a number of prospects within our existing and expanded concession area. Regardless, we now have a substantial resource inventory for use in initial scoping studies," said Cronin in a written statement issued by the company.
According to the report, it will be necessary to continue the research within the framework of the concession area, but there is already a significant basis for the development of the coverage study, which ultimately leads to a feasibility study for mine regeneration in Vareš. Both sites are in the concession zone granted to the concessionaire "Eastern Mining". The research is conducted in accordance with the positive legal regulations of Bosnia and Herzegovina, the Federation of BiH, the Zenica-Doboj Canton, the Municipality of Vareš, with special appreciation and good cooperation with the local population.
Adriatic Metals is a researcher of zinc polymers and a company that is listed on the ASX list through its 100% stake in the project in Vareš. The project includes a historical mine with a site of zinc / lead / barite and silver excavation at the locations of Veovača and Rupice. The short-term goal of Adriatic Metals is to extend the existing resource to the JORC (Australian Joint Ore Reserve Committee) on Veovača and to complete the drilling program in order to expand the high-quality deposit at the Rupice./ibna