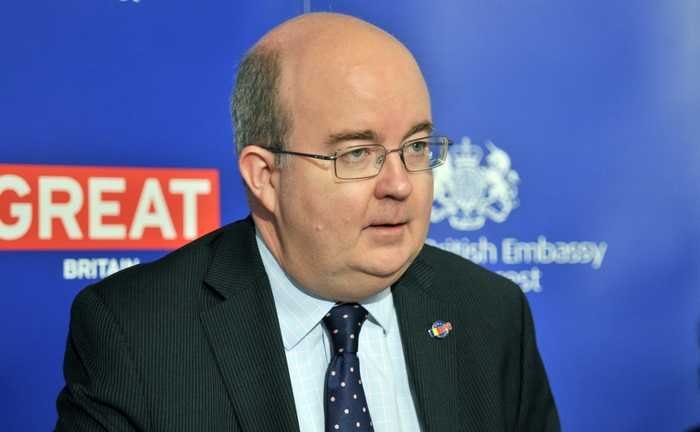 Bucharest, March 10, 2015/ Independent Balkan News Agency
By Daniel Stroe
About 60 businesses, the largest delegation ever coming to Romania over the past 25 years, are today wrapping up a two day trade mission to Romania where they held talks with Romanian officials and expressed interest in various fields of the Romanian economy.
"The great Mega Mission – a trade delegation of around 50 British businesses – will pitch camp in Bucharest for an intensive round of seminars, meetings and networking opportunities, before moving on to Bulgaria for the second and final leg. The Mission is a milestone event: the largest UK commercial delegation to Romania since the Revolution 25 years ago, and probably for a good while before that", British ambassador two Bucharest, Paul Brummell, wrote on his blog.
Meeting Andrei Gerea, the Economy minister, today, the businessmen expressed interest in various investment projects in Romania, such as those concerning nuclear, oil and natural gas exploration, especially amid new resources being discovered in the Black Sea. Gerea underlined Romania's growing role of regional hub and energy security supplier for the Central and Southeast Europe.
While in Romania, the British businessmen, led by Brian Welson, the trade ambassador of the British Trade and Investment Agency, also explored projects in infrastructure, public transportation, water management, environment and renewable energy. Romania has major plans in developing its infrastructure and Britain has the proper expertise to assist Romania, the businessmen said.
"Romania has a tremendous development capacity. The British companies are willing to help the Romanian economy so that changes are significant. The British industry has to play a key role in Romania's modernization process", Welson pointed out.
Bilateral trade between Romania and the UK reached €3 billion in 2014 while British investment in Romania currently amounts to €6.5 billion. Great Britain is ranked 8th among Romania's trade partners and 6th among those in the EU. More than 5,000 British companies are active on the Romanian market, according to Ion Jinga, the Romanian ambassador in London.
Challenges still lie ahead for British investors in Romania, but prospects are encouraging. "There are challenges, for example around continuing relatively high levels of corruption and a weakness around legislative predictability, but compared with many other markets in the world, Romania is a relatively straightforward place in which to do business. The final stage is to bring British companies together with Romanian decision-makers and potential business partners, at which point I am confident that the entrepreneurial spirit on both sides will do the rest", ambassador Brummell concluded on his blog.