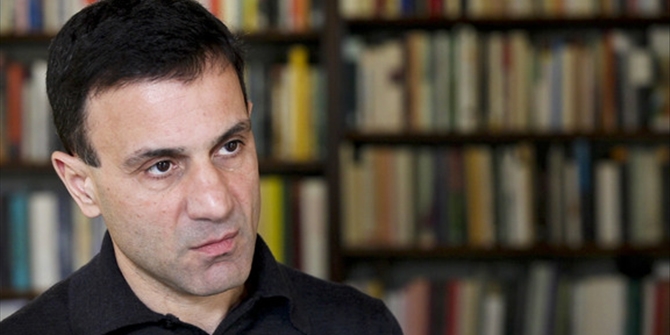 Athens, May 20, 2015/ Independent Balkan News Agency
SYRIZA MP Kostas Lapavitsas stirs the water again with an interview Tuesday speaking once again of a return to the drachma.
The famous economist, who was interviewed by ThePressProject.gr, noted that if the country returns to the drachma, recovery will come within months arguing that the people are ready for a return to the national currency.
In response to the Minister of Finance who said it would be a disaster to abandon the euro, Kostas Lapavitsas said the country has fallen into the trap of the common currency and wondered "if you find yourself with one foot caught in a trap is it a disaster to try to break free? It is best to wait to die?".
Lapavitsas supports the country's exit from the single currency and talks of terrorism and exaggerations that have shaped public opinion.
He says that an exit from the euro would indeed cause problems but claimed that it would only last a few weeks. In order to find the necessary resources Lapavitsas said there are intergovernmental agreements that can work, such as with Iran and Russia, with which Greece already collaborates for its energy needs and noted that "the aim of returning to the drachma is the recovery of our national sovereignty".
On the negotiation and the prospects of a mutually beneficial agreement, Lapavitsas appears completely negative saying that even the current leakage with the Juncker text does not ensure but a little more time. He referred to the necessity to start the debate on debt sustainability and of course urged the government to proceed to a rupture.
For the meaning of the vote of January 25
"Lately we have been flooded with interpretations of the popular mandate. Everyone interprets it as they please. My view is that people voted for a change. For a big change. They voted for our program. They heard our program, accepted it and voted for it. Certainly they heard us saying that all these will be done inside the euro. This is true. But they did not vote to stay in the euro at all costs".
For the program of Thessaloniki
"We have taken measures, we have not done things that grossly or largely contradict our program. We have not done so and I do not think we will. But it is still true and we all know that in the current framework we cannot implement the program at the pace and in the way we would have liked.
It is being discussed at the moment – given how things will go – if we will be able to make it happen. I hope that SYRIZA will not back down on that. I am confident that we will move forward on this basis. If other things come up, the problem would not be with me it would be with SYRIZA".
For the release of the Eurogroup of February 20
"I do not like this agreement at all because it raises a number of issues. To summarize I would say that it contains the "creative ambiguity" that is usually in favor of strong and not the weak as it turned out to be the case in practice. Also, the time when this happens, is not in favor of the one who wants a quick solution and pressed but is in favor of the other side".
"Greece I think will be a pioneer in this too. We pioneered many things in the course of this crisis. We brought the IMF into the EMU, we imposed tremendous austerity policies in Europe, we were lab animals.
We will lead in this as well, because what we owe to the IMF right now is huge amounts and second these are amounts that we are repaying now. What we owe to the EU have a grace period. So if we stop payments – which we must – unfortunately the payments that will stop will be to the Fund and the ECB because these are the urgent ones. That's where the thing has a development which is partly unpredictable and partly very difficult. But which is the other way?".
"Very naturally we have a debate both among the people and inside SYRIZA. SYRIZA is once again the only political space where discussion that takes place in society is reflected through it".
Elections
"My position, whether we speak of a referendum or election is tremendously clear. If SYRIZA is to receive a popular mandate it will need to make great strides, if a solution can't be reached (even though it is still open as a possibility) it will need to take a different position. It's not a matter of… tell me what you want and I'll do it. Democracy is not like that, politics is not like that. SYRIZA must position itself differently. This is already being done within SYRIZA".