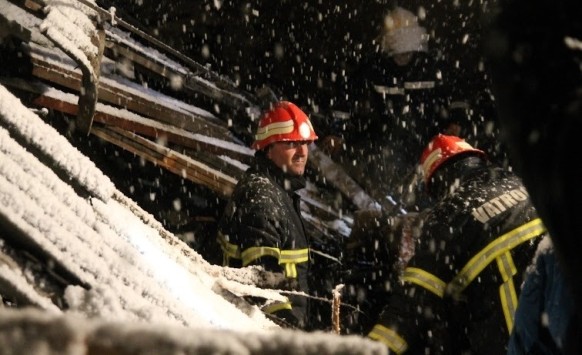 Banja Luka, January 5, 2015/ Independent Balkan News Agency
By Mladen Dragojlovic
One woman died in the large landslide in the village of Bare, near Kakanj in central Bosnia, while rescuers saved two other women and a child, who were trapped in the debris.
Among those rescued are the four-year old victim's daughter and two of their relatives. They have been transported to the hospital in Zenica, and one of them is in a critical condition. The four-year old girl has minor injuries, while the 20 year-old girl has serious injuries, but her health condition is stable.
The landslide, more than 500 meters wide, occurred on Sunday evening and tones of mug struck a village with more than 20 residences. Several houses have been completely destroyed and the inhabitants were forced to leave behind everything they owned and run out of their houses.
Mirhet Cosic, whose home is also destroyed, said to media that everything happened in just few seconds.
"In evening we had several electrical power failures. In one moment, my daughter heard a strange noise and opened the main door. We saw a terrifying scene; the hill was running towards the house", said Cosic.
He added that he realised survival was a matter of seconds and called his five kids and wife to run out of the house. They left everything in the ruined house. Residents from other houses also didn't have time to take clothes, documents or anything else. In the two houses, four females didn't react on time and were trapped in the debris.
The rescuers came on the place in few minutes and begun the rescue operation. Eight families with 25 members are now homeless and the rest of village houses have sustained heavy damages. In the morning after catastrophe, Kakanj municipality decided to help them find alternative accommodation and will pay their rent until the reconstruction of their homes, in addition to receiving help from various humanitarian organisations.
This catastrophe revealed all failures in the emergency notification system between various institutions and organizations which are responsible to react in cases such as this. Samir Agic, from BiH Ministry of security, told the media that police informed them about the landslide and then the Ministry informed the Federation BiH Civil Protection. In cases such as these, it would be normal that police directly inform Civil Protection and initiate a rescue operation.
"That is the problem in the coordination between state, entity and cantonal level. According to the relevant law, nobody is in obligation to share information about a natural disaster, but can do so if they want. That is not good, we must have a stable system of coordination, in order to send aid as soon as is possible", said Agic.
He also reminded that the system showed its failures during the floods in May last year, but there have been no changes in the laws that regulate this matter.