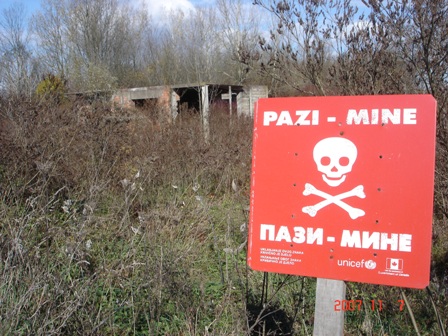 According to official data, since the war in Bosnia and Herzegovina ended in 1996, 614 citizens died from landmines explosions. The total of injured citizens including deaths, is 1 758. Of these, 151 are deminers (including 51 fatalities), and 250 victims are children.
In 2018, two mine incidents in Gračanica and Zavidovićiwere recorded. In first incident, one person was killed and one seriously injured during hunting in a marked minefield, while in the second incident a herd of sheep was also killed, also in the marked area.
According to The Mine Action Center in BiH (BHMAC), "most of the accidents caused by mines and other explosive devices are occurring at the beginning of spring and during autumn".
The Mine Action Center warns citizens of the danger of mines and unexploded devices, and stressed that all items suspected of being landmine-threatening, must be reported to the nearest police station or Civil protection service office.
BHMAC consider that about 1 053 square kilometres are still landminemine suspected areas in BiH. Out of this, 64 percent are forests and 26 percent is farmland.
"Farmers and construction workers, as well as collectors of secondary raw materials, must pay special attention during the work. In the case of the landmine or other explosive devices finding, they should not undertake anything self-initiated action, but mark the location in order to inform the authorities responsible for their removal (police and civil protection)", BHMAC stresses.
Hikers, foresters, cattle-breeders, hunters, nature lovers, recreationalists and all those who, because of their interest or pleasure, come in contact with mine-suspected areas, are warned not to go to the unknown areas and to take care of mine signs, because any disrespect, destruction or alienation of these signs could leads to someone getting hurt.
BHMAC said that, during 2018, 103 demining tasks were completed, while 84 other are currently in progress. 190 pieces of explosive devices, 224 pieces of anti-infantry landmines and 13 pieces of anti-tank mines were destroyed.
Scouting teams of BHMAC set 1,844 signs of emergency marking to 174 locations in BiH, this year alone, while scouting was carried out at 243 locations. Currently, 26 Mine Action Organizations have been accredited in BiH.
"BiH is a signatory to the Ottawa Convention and, in accordance with it, there is an obligation to destroy all existing minefields by 2019. Unfortunately, despite a sufficient number of people, material and technical equipment in BiH, the only problem for failure to fulfil this deadline is money. The finances are mostly provided through donations from European countries, as well as from other countries, but also from domestic funds. The new strategic plan, that envisages cleaning of the landmines by 2025, is in the phase of adoption by the BiH Council of Ministers. According to it, it is necessary to allocate 336 million BAM (about 168 million Euro), in total, to meet these strategic and operational goals by 2025", BHMAC says./IBNA