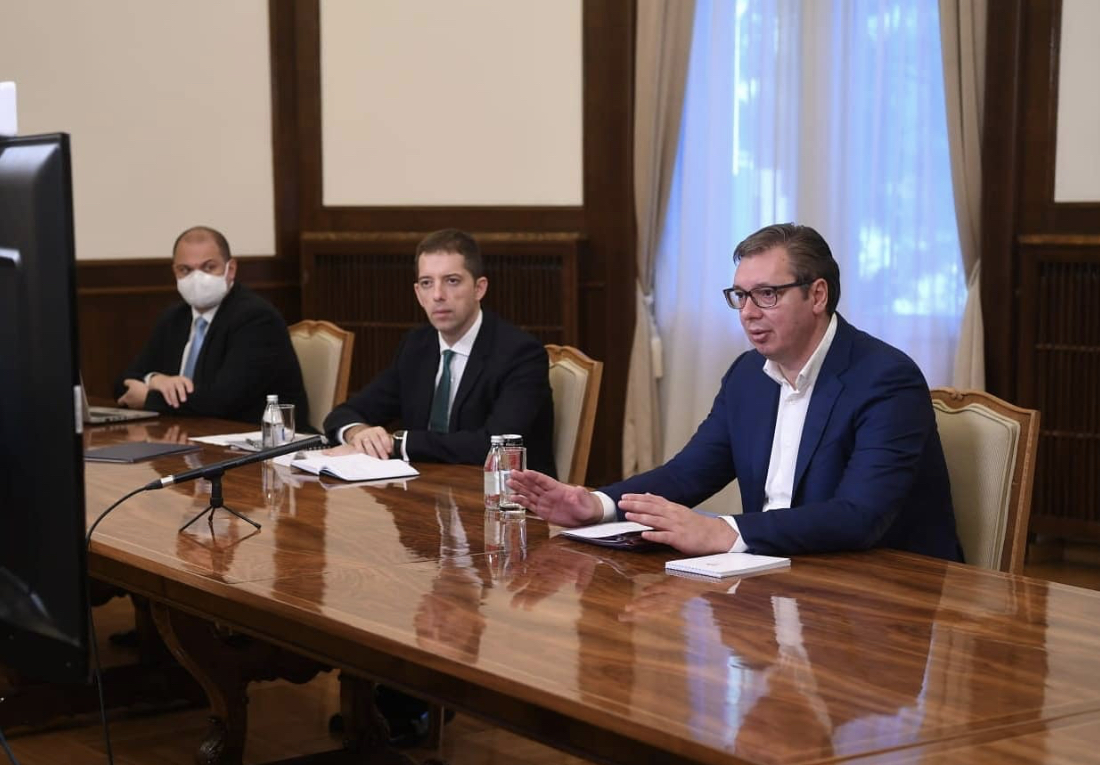 European Union Special Representative for the Belgrade-Pristina-Western Balkans Dialogue, Miroslav Lajcak, said today that resolving relations between Kosovo and Serbia would be a painful compromise which he personally had no doubt it is possible, but will be worth it.
Lajcak spoke at a committee of the Belgrade Security Forum "Belgrade-Pristina, there is no solution without confidence",  attended by Serbian President Aleksandar Vučić, KosovAar Prime Minister Avdullah Hoti and Ryan Tully, U.S. Senate Select Committee on Intelligence. At the same time, he said that these talks were not a continuation of the dialogue led by Brussels.
"I see the process of normalizing relations between Kosovo and Serbia as the main factor of confidence in the region and an important element in resolving regional problems. That is why we want to achieve three goals at the same time; the first is to establish normalization of relations between the two sides; the second is to incorporate European values ​​and rules and to bring the region much closer to the European future; the third is to contribute to regional stability. It is not an easy process, the solution will be a painful compromise, but I have no doubt that it is possible and worth it. I would like to thank my interlocutors, Vučić and Hoti, for their commitment to the dialogue and for their persistence in keep going, despite facing sometimes strong criticism at home. You are on the right side of history, and history will be able to recognize that", Lajcak said.
Serbian President Aleksandar Vučić said, among other things, that the two sides were far from reconciling and that work needed to be done. He reminded that Pristina has not fulfilled its obligations, which it undertook by signing the Brussels Agreement, seven and a half years ago.
"When we talk about a compromise, the compromise can be: 'Will Serbia recognize Kosovo and then Kosovo can recognize Serbia'? We do not need that, we are a recognized state. From everyone. What we need is a compromise solution, for Belgrade's position to be understood, for Serbia's position to be understood, to understand that we must take care of the Serbs in Kosovo. It has been seven and a half years since the signing of the Brussels Agreement, and only one obligation has to be fulfilled by the Albanian side, that of the establishment of the Association of Serb-majority Municipalities. And what was their answer today? 'We do not care about this, not until Serbia recognizes Kosovo'. It was not signed in Brussels that Serbia would recognize Kosovo, but with the EU as a guarantor, it was agreed that Kosovo would fulfill its obligations under the agreement. Now they are saying: 'we do not care, we will never do it, it is part of the regional agenda'. But we need to know, first of all, whether you will fulfill it or not. Second of all,  are we talking about a compromise solution or an increase in pressure on Serbia? And do you really want to build normal relations or do you actually want to beat the Serbs? I think we need to find a solution which leaves both sides equally dissatisfied or a little bit satisfied", Vučić said.
Hoti, when asked by the moderator if he wanted to respond to Vučić, he said that, unfortunately, most of them were not listening because the show was "blocked". He added, however, that negotiations should not be interpreted as to what Serbia has won and what it is losing.
In his closing remarks, President Vučić emphasized that it was important for all international actors to be involved in finding a compromise solution and, if necessary, to think "outside the box" in this process.
"We will be fully involved in this process", said the Serbian president. /ibna