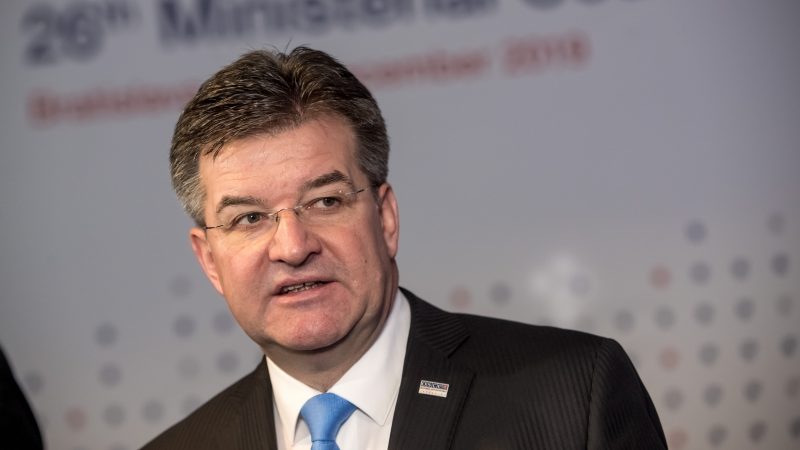 EU Special Envoy for the Belgrade-Pristina Dialogue Miroslav Lajcak said on Thursday night that both Belgrade and Pristina have the will to engage in dialogue and an "absolute understanding" that there is no alternative. He added that he expects a meeting between Serbian President Aleksandar Vučić and Self-Determination Movement leader Albin Kurti before summer.
"The main conclusion of my talks in Pristina and Belgrade is that there is a will for dialogue, that there is a full understanding that dialogue has no alternative and that it is absolutely the key to normalizing relations and to the European course, but also to cultivating a smooth climate between Kosovo and Serbia," Lajcak told H1
He stressed that none of the actors he met in Kosovo, Metohija and Serbia doubted the necessity of dialogue.
"This is the main message I am conveying to Brussels," Lajcak said.
Asked if it was a technical or political dialogue, Lajcak explained he did not see two different types of dialogues but only one dialogue, which is by definition political.
He recalled that the dialogue was led by the EU High Representative for Foreign Affairs and Security Policy for 10 years.
"Ten years is enough for the negotiation process. With the arrival of the new European Commission, it has been decided that we need to focus on this process and have someone in the EU monitor and deal with this process 24/7 and that what we are negotiating will be a comprehensive agreement to normalize relations between Kosovo and Serbia," Lajcak added.
As he stressed, this agreement should solve all open issues "permanently".
"This includes all open issues that have not been discussed so far, but also those that have been agreed but have not been met or have only been partially met," he explained.
He added that one of the main goals of his visit was to meet with Kurti as the winner of the Kosovo elections and talk to him about the dialogue and the continuation of this process.
"He was not informed about the dialogue, so it was important for me that I personally provided an extensive update on the dialogue process. The conclusion of our talks -and we spent more than three hours together- is that he understands that dialogue is needed, he is ready to keep it going and that he is the head of the Kosovo delegation. Kurti will be heading to Brussels and will meet with Vučić. This should happen soon enough after the institutions are formed," Lajcak said.
He added that there is enough space for this process.
Kurti is convinced that he can solve all the problems relatively quickly. We definitely have enough space until the end of the year to focus on dialogue, because Serbia expects to hold elections in a year, around next spring. We have enough space and I expect that the first meeting in a reasonable time after the formation of all the necessary institutions will definitely take place before summer," said Lajcak.
He also stressed that the dialogue fulfills many functions of which, as he stated, the main purpose is to reach an agreement.
"Furthermore, the dialogue is the only platform for talks between Belgrade and Pristina with the presence of the EU," Lajcak said.
He added that experience shows that if there is no dialogue, then there is no platform for resolving issues.
"And then those are resolved via messages through the media, which is not the most effective way to solve them. If there is no dialogue tensions increase; if there is tension, they are destroyed. This is clear to all partners, everyone knows that dialogue is necessary," Lajcak stressed. /ibna