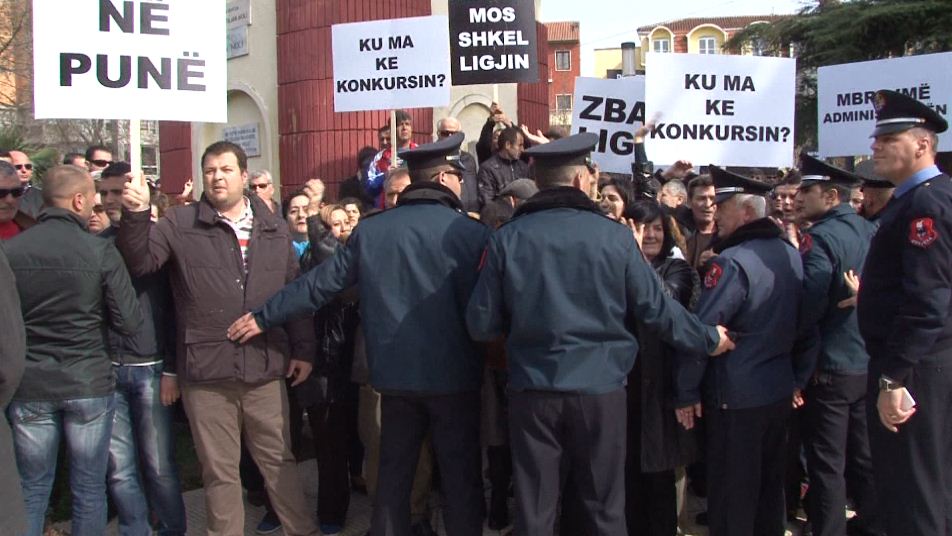 Tirana, March 20, 2014/Independent Balkan News Agency
The Association of Civil Servants who were Laid off holds a protest in front of parliament in Tirana in an effort to raise awareness about the great number of people who have been laid off following the change of government.
This association and the opposition say that there are around 5 thousand people who have been paid off and  replaced with people close to the left wing government. Opposition says that these changes have taken place in violation of the law. According to it, in the majority of cases, professionals have been replaced by amateurs.
The protest (photo) comes a few days after the Constitutional Court quashed the normative act issued by Rama's government which postponed the entry in force of the new civil servant act, which was voted by all parliamentary parties, until April 1, 2014.
Nertila Qafzezi, chairwoman of this association says that this association "demands the reinstitution at work of all those who were unjustly removed from the administration from October 1, 2013 and onwards".
The association says that the laying off of civil servants is being accompanied by their denigration and by denying them the rights emanating from the Work Code.
According to the Code, workers who are laid off in the administration are warned 5 months ahead, they benefit a salary up to a year and receive attention for new employment", says Qafzezi.
The new government reduced in the past few days the salary period after a civil servant is made redundant to 1 to 3 months. Another issue of the protest relates to those people who have started lawsuits.
Mrs. Qafzezi addressed a direct question to the Minister of Innovation and Public Administration, Milena Harito: "Why don't you reinstitute civil servants who have won their lawsuits in the Administrative Court back to work?"/
Another question was: "Tell us what will become of hundreds of families, whose spouses you have laid off and left them without any incomes?"
Qafzezi says that the association will continue to protest in front of Albanian institutions, EU embassies and other international organizations. "These protests will continue until all those who have been sacked unjustly are reinstituted", protestors said.
On its part, the government seems to fear a possible refusal of the EU candidate status in June, as the issue of civil servants who have been made redundant is very sensitive. Minister for Innovation and Public Administration, Milena Harito says that there's no more people who are being made redundant and until July 2014 youngsters will continue to be employed in the state administration. She says that all competitions have been suspended because on February 26, the Constitutional Court quashed the normative act of the government.
As far as the figures of those who have been made redundant are concerned, Harito denies that they amount to 5 thousand, saying that they're many times smaller.
According to her, there are no politically motivated redundancies and that 270 employees have been transferred to the waiting list because the administration has been reduced by 15%.
Parliamentary commission appointed about the public administration in 2006 concluded that 10 thousand people were laid off after the left wing government transferred power to the right wing government, which after 8 years, it's once again in opposition. /ibna/