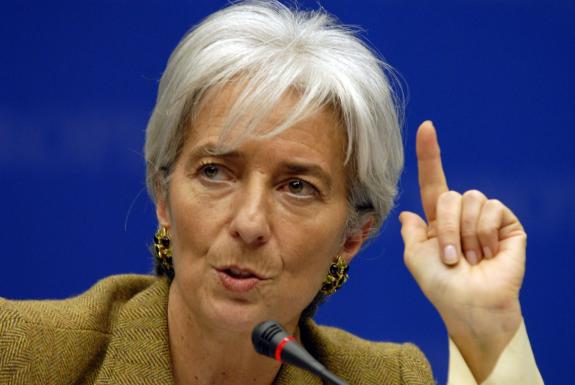 Review by Christos T. Panagopoulos
IMF's Managing Director, Christine Lagarde, expressed her satisfaction on Tuesday for Romanian government's efforts to reduce fiscal deficit by more than 6% of its Gross Domestic Product (GDP), but insisted reform are needed to support job creation and employment.
According to Romanian media, Mrs. Lagarde attended yesterday a press conference in Bucharest – Eastern Europe and Romania: The Path to Prosperity" – hosted by the National Bank of Romania (BNR).
"Your home and your future lie within the European family. At the same time, Romania has even more at stake, more to gain among the countries in your neighborhood. (…) Your country deserves credit for taking steps over the past several years to begin chipping away at the barriers to higher growth. (…)There are however other reforms that can boost competitiveness and put Romania on a permanent path to higher and more inclusive growth. Reforms that support job creation and employment along with continued efforts to improve social protections for the most vulnerable.
Improving the climate for investment is not just oriented to the private sector. Steps to improve Romania's ability to effectively use EU funds for efficient public investment would also support growth", stated the head of the IMF.
Moreover, she stressed that Romania has made very much progress in the past 20 years and what has been achieved in the partnership with the international financial institution is quite extraordinary. "Now, five years after the start of the crisis, the worst has passed. Most of the countries in your neighbourhood have returned to growth, along with Romania. This year, we expect only two countries – Croatia and Slovenia – to remain in recession, compared to eight last year", said Lagarde.
Basescu: "We have made a lot of progress"
Earlier, the President, Traian Basescu, said at the start of the special meeting with the Managing Director of IMF at Cotroceni Palace that, although there were a few problems, the IMF agreement was finalized. "We managed to complete the second agreement with the IMF. To be honest, there were some problems, but with goodwill of all, the agreement was finalized. Now, we need to start a new one. I'll be direct. Initially, the European Commission was not too much in favour of a new agreement, simply because they do not have such regulations on countries in case of which the excessive budget deficit cannot be applied – you know the problem… but we managed to have an understanding with the European Commission, we can now continue", the President said.
During her two day visit, Christine Lagarde met Romanian officials – PM Ponta, president of Romania Traian Basescu, BNR Governor Mugur Isarescu, Economy Minister Daniel Chitoiu, Minister Delegate for Budget Liviu Voinea – and decision makers as well as representatives of the private sector – CEO Petrom Mariana Gheorghe, representatives of the civil society and of the academic environment in order to discuss the current economic prospects and the challenges that the country will have to face.
Source: Nine o'clock.ro