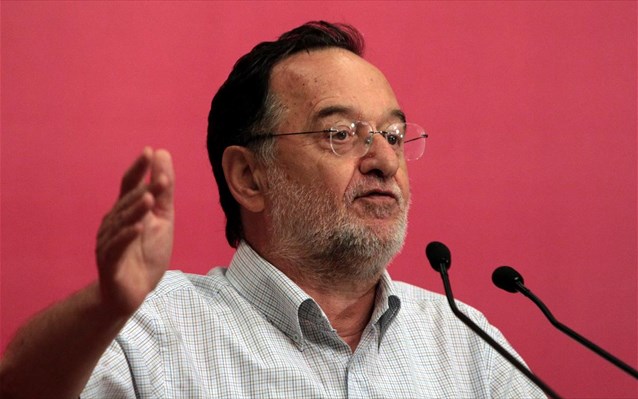 By Spiros Sideris – Athens
The position that "the only and most imperative way to rescue the country, is the progressive overturn, which is the only way to guarantee an exit from the crisis and stability for the interest of the people", expressed Panagiotis Lafazanis on his speech to the Central Committee SYRIZA on Sunday.
Mr. Lafazanis "attacked" the Prime minister, considering him responsible for the tension on the markets in the last week. SYRIZA's parliamentary spokesperson stressed that "the turmoil in our country has been most severe because of Samaras' erratic government policy". He added that Samaras "fell into the electoral trap he set for SYRIZA, with results that will weigh heavily on the country" and estimated that Greece "with the Samaras government, after the disillusion and surrender, is entering a new phase of its memorandum course, equally painful with the first".
"The recent turmoil in the markets, first of all in the Eurozone, is secondary to the new adverse economic developments", Lafazanis said and estimated that the economic crisis relapses with particular intensity in the eurozone and is accompanied by a deep political crisis, with characteristic violent confrontations even in the core of its large founding countries. This new deterioration, he said, highlights the enormous contradictions and growing impasses of the eurozone system, while the European status quo, Germany's first of all, attempts to respond to the crisis with more austerity, wider deregulation and stiffer undemocratic guardianship of countries and peoples, especially in the Euroregion.
Referring to SYRIZA's programmatic position, Lafazanis said the message for the Left from the recent market overreaction is that it takes a strong political, programmatic and movemental counterattack. It needs a more effective preparation and a more refined plan to address, in any case, the pressures and blackmail of the markets and the status quo of the European centers, with the aim of ensuring the consistent implementation of its program.
Referring to the political cooperation of SYRIZA. Lafazanis said that the main opposition party aims to achieve parliamentary majority, but is always open to collaborations. "Our firm objective must first be the collaboration with the forces of the Left", Lafazanis noted and added: "our general direction for the formation of cooperations does not mean that SYRIZA can be converted into an opportunity flag. SYRIZA's cooperations should be expressed on the basis of trust to the people, without memorandum responsibilities and on the basis of political and programmatic radicalism".