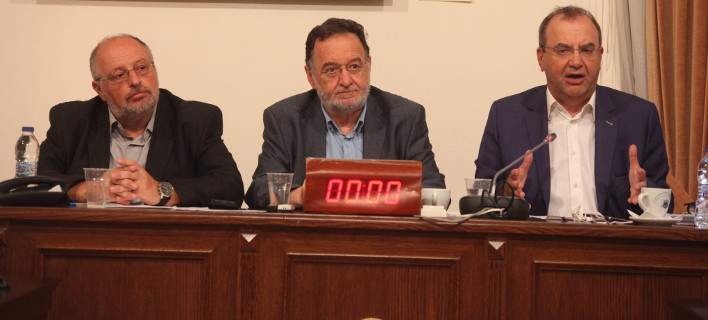 Athens, August 26, 2015/Independent Balkan News Agency
By Spiros Sideris
The immediate abolition of all privatisations provided in the third Memorandum called for Panagiotis Lafazanis after his meeting Tuesday with trade unions and social movements.
The meeting was attended by delegations of the Committee for the struggle for the Metropolitan Park in Elliniko, the Citizens' Initiative for the Elimination of HRADF, the Joint Initiative against the Privatisation of Regional Airport and GENOP-PPC.
The President of the PArliamentary Group of Popular Unity, P. Lafazanis, said inter alia:
"The Popular Unity is fighting with all its power to put an end to the wave of sweeping privatisations, which have been scheduled with the third memorandum signed by the Tsipras – Kammenos government.
The radical opposition of Democratic Unity to the privatisations that are being promoted is not just because of the perforate, intertwined and scandalous procedures followed, it is not because of the often humiliating price of the sale.
Our opposition to these privatisations of public companies, public resources and public infrastructure and property, is because, regardless of processes and price, they are harmful and counterproductive and ultimately strengthen an economic model of the most wild capitalism, while they convert the country into a colony and protectorate of the most blind private profit interests, both domestic and multinational.
From this perspective, Popular Unity is opposed and battles to stop the privatisations of PPC, DEPA, DESFA EYATh, EYDAP, OLP, THPA, the 14 regional airports, OSE, former Elliniko Airport, etc.
Popular Unity is not only concerned with the cancellation of privatisations, but claims, together with full public ownership, public administration, labour and social control of these companies and their radical reconstruction, reorganization and reorientation beyond corruption and customer relationships, designed to operate exclusively with developmental, productive, efficient, meritocratic and social criteria and only in the public and popular interest.
The Popular Unity says it will fight, using all possible means to retake under full public ownership and control all public enterprises and infrastructure, public physical and social goods and public property that were sold by governments in recent years. And first of all, it will fight to abolish HRADF and the so-called new Fund for the Development of Public Property, which are essentially mechanisms for the robbery of public wealth".