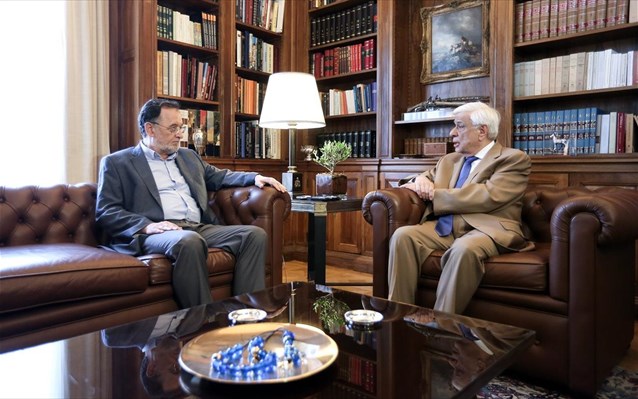 Athens, August 25, 2015/Independent Balkan News Agency
By Spiros Sideris
The exploratory mandate received the president of newly formed anti-austerity party Popular Unity, Panagiotis Lafazanis, by the President of the Republic Prokopis Pavlopoulos and denounced that "express election is an undemocratic aberration".
The third and last exploratory mandate for the possibility of forming a government received this on MOnday afternoon the president of Popular Unity Panagiotis Lafazanis during his meeting with President of the Republic Prokopis Pavlopoulos at the Presidential Palace.
Pavlopoulos congratulated Lafazanis for new position, and stated that "the concept of the party, especially regarding parliamentary issues and exploratory mandates, is determined by the Constitution and the Regulation of the House". He also noted that "after the notification to my person, by a letter of the Speaker, of the change to the Parliamentary Group of SYRIZA, in accordance with the Constitution and the Regulations of the House, based on parliamentary power Popular Unity is one which must receive the third and final exploratory mandate".
As Pavlopoulos noted, the investigative mandate is valid for three days starting Monday and ends on Thursday, August 27, at the same time.
For his part, Lafazanis said that "we will build on the popular mandate, to demonstrate that in this country it can and should be a consistent anti-memorandum government", and added that "we will use the mandate to first talk with society and social actors".
Indeed, he noted that "not only party leaders are responsible for the developments, there is a whole society, there are social representations that have a vivid interest for their future and the survival of the country".
Earlier, addressing journalists and media representatives, Lafazanis had stated that "for the first time I witness elections taking place in August in this country, and what's more express ones. If it was possible to take place at the end of August they would have".
The president of Popular Unity went on to say, "some think they can hide the consequences of the memoranda from the Greek people. This is an antidemocratic error, not to say a diversion" and concluded by saying", these were traditions and customs of other governments and for other goals. It is unthinkable to be repeated today, in 2015, when the people are tested by memoranda".
After receiving the exploratory mandate to form a government by the President of the Republic, coming out of the Presidential Palace, Lafazanis attacked the government, claiming that resorting to the polls with an express process is a sign of extreme anti-democratic mentality and constitutes a undemocratic aberration.