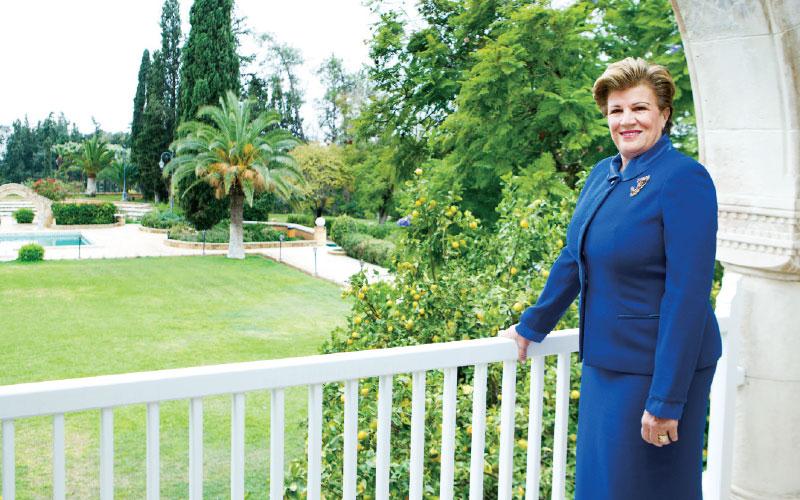 By Kyriacos Kyriacou – Nicosia
First lady of Cyprus Andri Anastasiades, wife of President Nicos Anastasiades, has bought a 1,739-square-metre plot of land adjacent to her residence in Yermasoyia-Limassol from the Archbishopric for a price much lower than its market value, according headline story published on Wednesday by daily newspaper Phileletheros. It is worth noting that the Church of Cyprus owns huge land properties worth millions all over Cyprus, mostly given in the past by citizens with no children.
The article which causes political reactions was rejected by the Church, Andri Anastasiades and Nicos Anastasiades. The paper claimed that the residential property in Yermasoyia was sold to Andri for €500.000 and cited independent appraiser opinions that estimated its current market value at €870.000. It also said that the land was used prior to the purchase by the president's guards, who constructed an outpost.
Archbishop Chrysostomos was also involved in the deal, signing the relevant papers with Andri Anastasiades.
Nothing inappropriate
In a written statement, the Archbishopric expressed its dismay at the paper's article and denied any suggestion of inappropriate behaviour.
"It is well-known that the Holy Archbishopric holds a significant number of properties in many areas in Cyprus, which are availablefor sale in the free market for any and all who may be interested," the statement said.
The Archbishopric has never made a secret of its effort to sell property, the statement continued, and to this end it sold several plots of land in September 2013 to the pension fund of a semi-governmental organisation.
"The sale to Mrs Anastasiades was made in the conditions of the free market, considering the current economic environment, the property's current value and its specific characteristics, and therefore nothing questionable has taken place."
The Archbishop went on the offensive in signing off the statement, accusing the paper of trying to mislead the public.
The First Lady also issued a statement, expressing her surprise at the article, saying that "an effort is being made to turn a legal private transaction into a political issue." She said after the Archbishopric's statement, no further comment would be necessary.
Parties want explanation
Political parties asked for an explanation from the government. The Green Party, in an announcement equated the First Lady with Caesar's wife and calls for an explanation.
"Two thousand years ago the Romans said Caesar's wife must not only be honest but be seen to be honest," the Green Party said. "Today, in an era where impressions matter, this principle takes on even greater meaning."
"An indecency"
President Anastasiades also issued a written statement saying that the article is an "indecency." "It has been my lifelong belief that what is legal is not necessarily ethical," the President's statement said, adding: "That is why, in my long career I have never been on the board of any companies or banks, nor have I ever been involved in any action that could be deemed questionable."