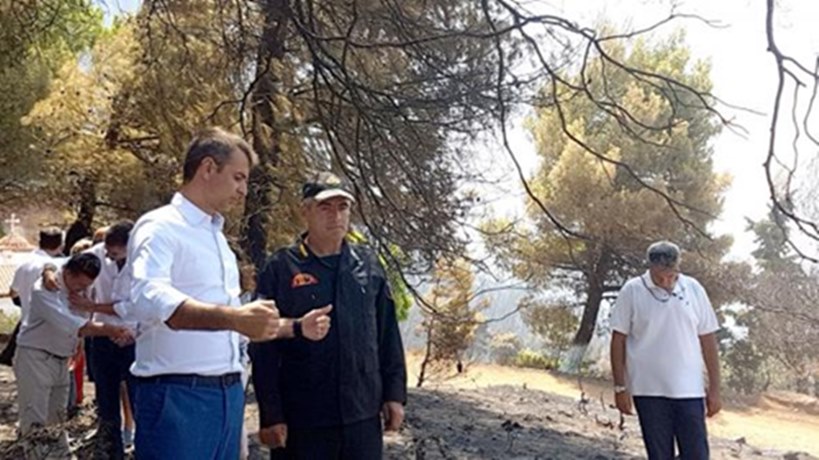 Athens, August 4, 2016/Independent Balkan News Agency
By Spiros Sideris
"After such a natural disaster it is our duty to put our differences aside and we sum our efforts to repair the damages", said the president of New Democracy Kyriakos Mitsotakis, speaking at a meeting of local authorities in the area of Limni in Euboea after his tour to the affected by the fiery whirlwind region.
The president of ND thanked the men and women of the firefighting forces, the volunteers, the Municipality, the Region and the General Secretariat for Civil Protection for their selfless efforts to extinguish the fire.
Mitsotakis said that immediate priorities from now on is prevention and vigilance to prevent any new fires, as the summer is not over.
At the same time, he noted the need to fully record the scale of the disaster and to launch infrastructure projects to prevent floods in the winter.
The leader of the main opposition asked for the immediate support of resin collectors to restore their income.
He also invited all those who had planned to visit North Euboea – and those who had not – to come for vacation in order to support tourism in Limni and the surrounding area.
Mitsotakis was accompanied  by MPs Simos Kedikoglou of Euboea, the prefect of Central Greece Kostas Bakoyannis, the General Secretary of Civil Protection Yannis Kapakis and the Mayor of Limni, Christos Kalyviotis.
In response to Mitsotakis' statements on the affected by the fire areas of North Euboea, the Minister of Rural Development Evangelos Apostolou replied that the state's reaction was immediate.
The prefect announced measures in support of Limni
Direct support program of tourism in the Limni region announced the prefect of Central Greece Kostas Bakoyannis, speaking at a meeting of local actors, in the presence of the president of ND Kyriakos Mitsotakis.
The program includes measures for the tourist promotion of Limni, so as not to lose the tourist season.
Bakoyannis stressed the need for immediate relief of those affected, especially the resin collectors. He noted further that in cooperation with the Forest Service there must be a study for flood protection of residential areas before the fall.
Speaking at the meeting, the ND Euboea MP Simos Kedokoglou underlined the need to support to the city of Limni with immediate and long-term measures. "Limni is still beautiful and we can help it to not only to stand on its feet, but also to grow", Simos Kedikoglou noted.