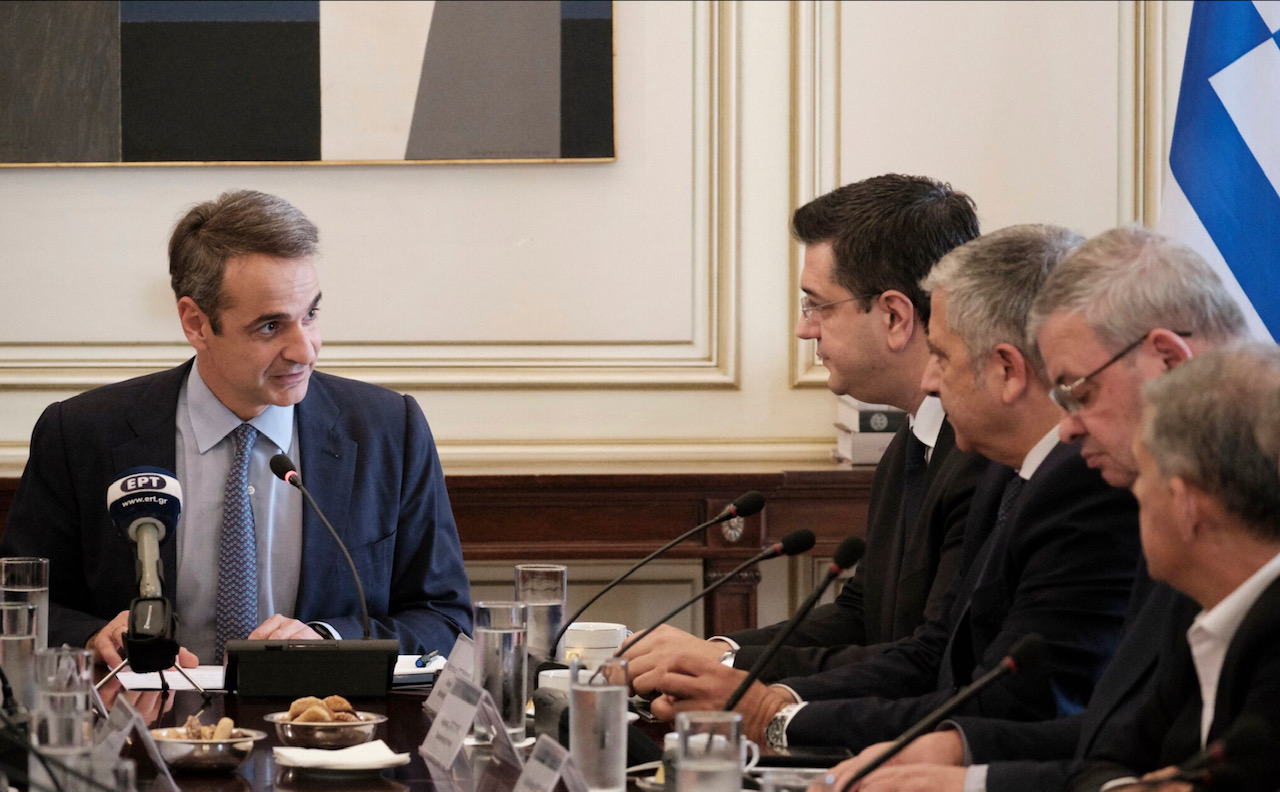 Prime Minister Kyriakos Mitsotakis remains trapped in his fruitless policy on the refugee-migration issue, after he urgently asked yesterday for "solidarity" from the 13 Local Governors, in order for the local communities' unsettlement to wane, and the resettlement of immigrants and refugees to continue.
By the end of the year, the resettlement of 20,000 asylum seekers from the Aegean islands should be completed with destination closed pre-departure centers that are under construction and will be announced in the upcoming days.
So far, the government's policy has only succeeded in flooding the islands with refugees sent by Erdogan, creating a wave of xenophobia in local communities involving right-wing and far-right voters as well as its own local lords. All in all, it has managed to create the image of a xenophobic country by eliminating an important chapter in international relations created by Greek society in previous years, which won the appreciation and admiration of the developed world. Worst of all, it is destroying this capital without winning anything apart from the votes or the tolerance of the far-right within and outside the party. It is indicative that Erdogan did not leave the opportunity slip through his hands and internationally promoted "the mistreatment of refugees and immigrants from Greece contrary to his own policy". This, of course, is not true, but when it comes to confronting Greece, Erdogan does not let it have even the humanitarian capital on the subject of addressing the refugee issue. After all, Kyriakos Mitsotakis made a number of other concessions to the Ankara regime in order not to upset Erdogan.
In yesterday's statement, Mr. Mitsotakis told the regional governors: "Today's government is following a different policy. We changed the asylum law and made it stricter. We have a different policy on border guard. We are setting up closed pre-departure centers to control who comes in and who goes out … We do not exaggerate regarding the problem nor do we underestimate it … We must show solidarity with the islands … I cannot fight and ask for solidarity from Europe when there is none between us". Citizen Protection Minister Michalis Chrisochoidis took on the "devil's advocate" role of justifying the xenophobic incidents, by saying: "Quantitatively, the issue is not big. Above all, we must ensure that Greeks are and feel safe".
Meanwhile, Maximos Mansion officials disclose that Kyriakos Mitsotakis will soon raise the issue of Europe's responsibilities, and in this context he will have meetings with his Italian counterpart Giuseppe Conte and with Sebastian Kurz. At the same time, he will be bringing up the issue in interviews with international media. The talks between the European People's Party in Zagreb and the Austrian Chancellor, with whom he shares an ideology and a friendship, will be rather interesting. However, in The Hague, when he raised the issue, he was frustrated by the response of the Dutch Prime Minister Mark Rutte who also shares his views, since he had publicly stated: "let's not blame Turkey; it has done a lot and is hosting 4 million refugees in its territory", something Kyriakos Mitsotakis refrained from commenting on. /ibna