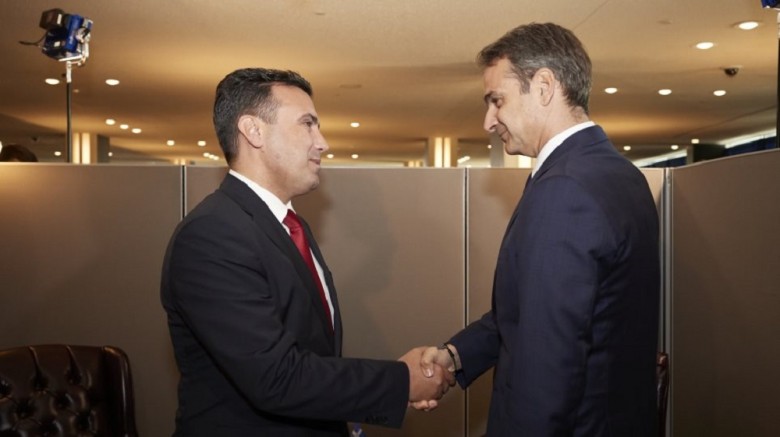 Prime Minister Kyriakos Mitsotakis endorsed North Macedonia's EU accession prospects during his meetings with Prime Minister Zoran Zaev and with the Bulgarian Prime Minister Boyko Borissov, as part of the 4th Thessaloniki Summit, while he appeared ready to undertake appropriate initiatives in this direction.
This is a turning point for Mr. Mitsotakis, who up until the Summit simply spectated the developments in France, Germany and the Netherlands.
Perhaps what was newsworthy from the meeting is that the Greek government in its official press release calls it by its name, North Macedonia, while up to this point it remained "unmentionable" both in the official announcements and in the government spokesman's statements.
According to the announcement on the meeting with Zaev: "The two men discussed current affairs, as well as issues of mutual interest. The discussion focused on the recent Conclusions of the European Council of 17-18 October, with the Prime Minister reaffirming our country's long-standing position in favor of the European Enlargement Policy in the Western Balkans, which will contribute to ensuring peace, stability and prosperity in wider region. He also added that Greece has played and will continue to play an active role in every direction to secure this course".
However, the Maximos Mansion officials did not fail to point out that "Mr. Mitsotakis once again unfolded his criticism regarding the Prespa Agreement, though he stressed that since it constitutes a commitment for the two countries and is a prerequisite for the European path, it must be implemented and actions that preserve tension must be avoided. The two prime ministers agreed that consolidating good neighborly relations and regional co-operation remain essential criteria for all stages of the accession process, but also for strengthening our bilateral relations.
Finally, Mr. Mitsotakis and Mr. Zaev expressed their mutual willingness to develop the economic and trade relations between Greece and North Macedonia, as well as to realize projects that would facilitate connectivity in our region for the benefit of bilateral trade.
The meeting with Borissov
During the meeting with Boyko Borissov the recent conclusions of the European Council of 17 and 18 October were also discussed, while the Prime Minister reaffirmed Greece's timeless stance in favor of the European future of the Western Balkans.
Indeed, Mr. Mitsotakis said he was ready to take appropriate steps in this direction, while stressing that the Greek support for the Balkans' accession process was inextricably linked to the strict preservation of the conditionality principle, as well as the principle of equal performance amongst candidates.
Among others, the 2021 – 2027 new multiannual financial framework and the migration/refugee crisis were further discussed, in which both parties focused, as well as Turkey's violating behavior in the Aegean.
Finally, the two prime ministers talked about the opportunities for mutually beneficial cooperation in the fields of energy, finance and investments, as well as the implementation of connectivity projects in the region. It was also decided that the Supreme Council of Cooperation between the two countries would meet in Kavala in February. /ibna