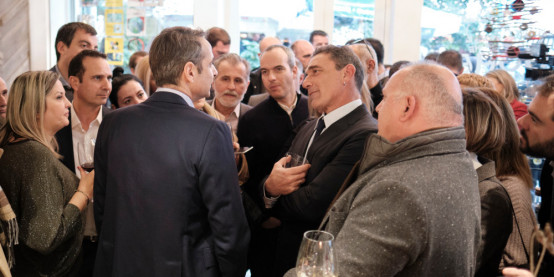 Relaxed and in a good mood after his mini Christmas holiday in Metsovo, Prime Minister Kyriakos Mitsotakis gave the established meeting to reporters at the end of the year and talked about all current issues.
The meeting with reporters, in a symbolic and no at all accidental move, which points to SYRIZA and its voters, took place at the multipurpose space "Schedia Home", run by the community which also publishes the Street Journal "Schedia". The prime minister spoke with the executive chef of the restaurant who curated the menu, Lefteris Lazarou, as well as with employees trained to provide quality service.
The first issue that the authors wanted to get information from was the issue of the President of the Republic, but the Prime Minister said that, despite giving it some thought in Metsovo, "there is still time … I am close to a decision but I have not decided yet". He added that "the name of the dominant one is written in stone, but it will appear when the snow melts". He added, however, in response to a question about the investment in "Hellinikon" that "the bulldozers could get in earlier, even if Adonis himself needs to climb in the bulldozer".
With regard to the Greek-Turkish issues, Mr Mitsotakis, after noting that "we always have communication channels", stood in favor of referral to The Hague of "the dispute about the continental shelf and the delimitation of maritime zones with Turkey", adding that this can not be done under pressure. He argued, however, that especially with regard to Libya, Turkey is isolated.
He also noted that Greece's position was "a political solution that the EU would embrace" and added that for us "the red line is for any regime that emerges to annul the Agreement with Turkey". On the relevant issue of armaments, Mr Mitsotakis said that "If the fiscal conditions allow it, we will seriously consider buying F35's because they are the most ready and state of the art in the market". He clarified that there is the possibility of the Greek defence industry participating in the production of the F35, further noting that the government supports and enhances the country's defence industry. He also said that the issue will be discussed during his forthcoming trip to the US where other issues will also be discussed, while ofcourse he is expecting investments.
After reiterating the obvious, that elections will be held in 2023, he referred to the electoral law, which will be tabled in January. He noted that "I will not meet with the political leaders … The proposal I am making is very close to what I have heard from KINAL … It will have upper and lower bonus scales. I don't think it is easy to get 200 votes; if need be it will be voted with 158 ​​votes… I don't have much expectation from SYRIZA unless they change their position, thinking they can be elected first party".
The prime minister noted as positive that there was consensus with SYRIZA in Greek-Turkish issues, while noting that consensus was not disturbed neither in matters of law and order, as everyone is against lawlessness and transgression. By way of interpretation, he did not appear to be on the same wavelength with Michalis Chrysochoidis, with regard to the excesses of the repressive forces./ibna