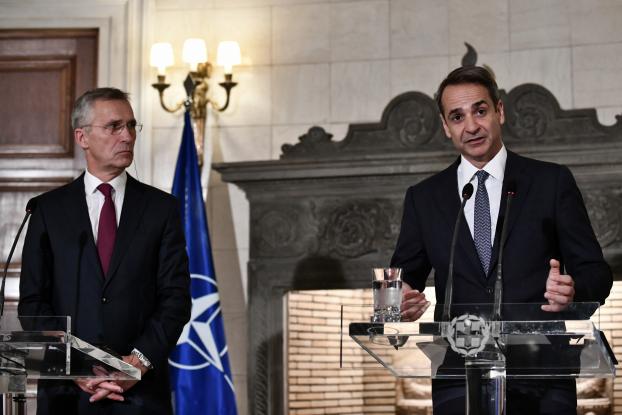 Developments in Northeast Syria following the Turkish troops' operations, Turkey's behavior in the Eastern Mediterranean, as well as issues regarding the Alliance were discussed during Prime Minister Kyriakos Mitsotakis' meeting with NATO Secretary-General Jens Stoltenberg.
In statements made shortly after, Mr. Mitsotakis highlighted Greece's contribution to the Alliance, thanked Stoltenberg for NATO's assistance in dealing with the migration issue (?), yet he did not even manage for the General to agree that this is a case of immigrants and not refugees. Of course, Mr. Stoltenberg was very cautious when talking about Turkey, apparently in order not to hurt NATO's relationship with the country, since the one with Greece is stable.
In his statements, Mr. Mitsotakis said: "Amidst the European Union's reaction, Greece condemns the violation of borders and treaties. It is the international community's – and NATO's as well – duty to exert every influence now in order to force a ceasefire; so that instability does not escalate and casualties or new refugee flows are prevented; but also in order for the painstaking efforts to resolve the Syrian crisis peacefully not to be in vain. Besides, events that lead to violent alterations of demographic data comprise an additional violation of international law and bring back historical memories unworthy of modern civilization.
This is one of the new threats that emerge in a security environment different from what we have known to date.
We also discussed the situation in our neighborhood – in the Balkans and, most notably, in the Eastern Mediterranean – where Greece's strategic role and significant added value were again recognized as a factor of stability. I even briefed the Secretary-General on Turkey's illegal activity within the Cypriot maritime zones. Those are movements that grossly violate international law; they create tensions and undermine the UN guidelines for restarting the talks on the Cyprus issue.
Referring to the geostrategic advantages of our country, I reiterated its commitment to the principle of solidarity, which remains a cornerstone of the Alliance. In this context I also explained to Mr. Stoltenberg the situation in the Aegean. I did not fail to mention – once again – that any conduct other than international law and international treaties is in vain but also potentially dangerous. Greece has historically opposed the use of threats or violence and endorsed peaceful resolutions of all disputes, as provided by the Washington Founding Treaty. It cpnstitutes – and this is something that is recognized by NATO – one of the few members who contribute more than 2% of their GDP to annual defense spending. It is, in other words, a consistent and stable ally, but also a sovereign state with unquestionable national rights".
Concluding his remarks, the Prime Minister said: "I remain under the impression that the Secretary-General completely understands and grasps these Greek national sensibilities. However, he also has a profound knowledge of developments throughout the Eastern Mediterranean, as I have come to realize in our discussion of our visit to Cairo as part of the Greece-Cyprus-Egypt Tripartite Summit. I thanked the Secretary-General in particular for supporting NATO in dealing with migration flows to our maritime borders. I called for the Alliance to become more involved in tackling this international problem. I also talked to him about the specific plan our Government is already promoting on this issue".
When asked whether there would be any measures against Turkey, Mr. Mitsotakis replied: "Greece has from the very beginning condemned this new unilateral military action by Turkey within the Syrian territory. We fully endorse the position of the European Union. It is clear the solution in Syria must be a political one, and any unilateral military action does not help in this regard. On the contrary, in a country that is deeply wounded by an eight-year civil war – which has led to the largest refugee flows we have experienced in decades – any such move is likely to spark a new humanitarian crisis and make it even difficult for a political solution to be provided for the Syrian crisis".
He further stressed that "it is by no means certain that this intervention – given the current situation in the region – will not allow for any forces which are currently defeated and scattered to find an opportunity to regroup. The war and the front of the international community, NATO and the European Union, consisting of all countries interested in tackling this matter, must be united and strong. I'm afraid this move does not serve this purpose. Beyond that, it is clear that these issues are also being discussed on a European level". Regarding NATO's attitude towards Turkey, Mr. Mitsotakis noted: "Greece constantly raises these issues (the behavior of Turkey) within NATO as well. Up to a certain point the leveling tactic can be expected to some extent, but I think it is a tactic that is unfair to Greece; because Greece is currently the victim of violations of international law. The same goes for Cyprus with regards to Turkish violations. Whether we are talking about territorial waters, airspace or overflights, those are issues we always keep in mind with the Alliance".
In a question regarding how NATO can play a more effective role in stopping migratory flows throughout the Aegean, Mr. Mitsotakis replied: "I asked and discussed with the Secretary-General the scope of NATO's mission in the Aegean. I think it was a useful mission, and we would be ignoring its significance by saying it played basically no role. I do not share this view, so I have asked -and I still ask the Secretary-General, the Alliance and the Member States, of course, to strengthen their presence in the context of SNMG2, the NATO mission in the Aegean, with more ships. As you may know, there is no numerical limit to how many ships can participate in this mission. This is an issue that also concerns the member states of the Alliance and an affair that I will myself raise to our allies in NATO during the Summit in London.
I consider the presence of NATO to be important". /ibna