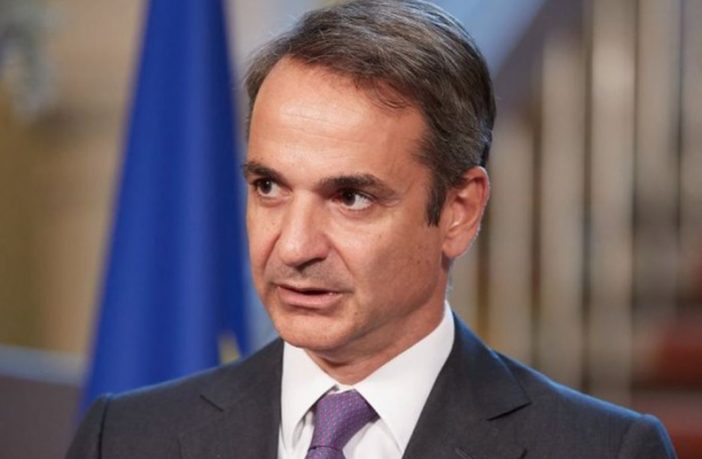 Prime Minister Kyriakos Mitsotakis spoke of a rational honeymoon between his government and the Greek society during an open discussion he held with New York Times columnist Roger Cohen as part of the Athens Democracy Forum operations.
The prime minister stated that if there is a surplus at the end of the year it will be distributed to the public, while this time he did mention foreign policy, though not voluntarily, since the journalist posed a question on the subject. However, he avoided talking about measures against Turkey regarding its activity within the Cypriot EEZ; instead he talked about Europe, which he said "cannot stay idle and will soon take action", while commenting on the US attitude towards the invasion of Syria "he expressed hope for the statement claiming that Washington did not give the green light to Turkey to be valid".
The prime minister continued his toned-down approach regarding Ankara, in order not to risk that the Greek islands would have to face larger migrant flows. This attitude follows what some sources report about Nikos Dendias' recent trip to Nicosia, where he allegedly asked the Cypriot leadership to take a similar stance towards Turkey.
When asked about Turkey's behavior, he said there was a clear violation of international law in Cyprus. "What belongs to Cyprus, belongs to Cyprus. It does not belong to Turkey", he said, adding that Greece feels confident, has faith in its powers and has strong allies. He brought up his meeting with Tayyip Erdogan and that "I told him it would be important for us to start over. However, it takes two to Tango… I have made it very clear that using the refugee issue as a way to force pressure against Europe is not a good strategy … Europe must continue to support Turkey. Yet in Cyprus there is a clear violation of the Cypriot sovereignty… Turkey's behavior in Cyprus cannot but provoke the reaction of the European Union. The EU will take initiatives relatively soon".
The invasion of Syria adds to the volatility
As for Turkey's behavior with regards to the invasion of Syria, he commented "any unilateral intervention in another country without the UN support is clearly the wrong strategy". He added that Turkey's move adds to the volatility and possibly boosts international terrorism. Finally, he stressed that Turkey acts in view of long-term interests, however "it is a difficult client, that does not play by the rules". He also noted that recently "I was in Egypt. We have a trilateral cooperation going on". Asked about the attitude of US President Donald Trump, Mr. Mitsotakis replied that he holds on to the statement that Washington never gave Ankara the "green light", expressing hope that that would be the States' official policy.
Refugee / Migrant issue
Moving on to the refugee / migrant issue, the prime minister stated that "This constitutes a problem of immigration. Greece is changing and we have the capacity to integrate refugees". A student from Afghanistan intervened in the discussion, asking about the evacuation of the City Plaza. The prime minister responded that "We provide humanitarian conditions as much as we can; we do what we can … What we will also do is we will ensure that asylum seekers indeed find refuge. We have a lot of people from Afghanistan who have reasons to receive asylum … Our government is doing its best to take care of refugees in the best way possible". Finally, he sent a message: "If you are entitled to international protection, you will get it. If you're here for a better financial future, I'm sorry but we can't help you".
Surplus distribution
If there is a surplus , it will be distributed to the citizens by the end of the year, Mr. Mitsotakis said, referring to the extraordinary allowance given by the Tsipras government in 2017 and 2018. In particular, the prime minister underlined: "Before July 7 there was a fiscal gap; now an extra surplus is expected for 2019. Any extra surplus will be distributed in December to support the citizens". Responding to questions about the evolution of the economy following the election victory, the prime minister said the government was on a "rational honeymoon" with Greek society and added "let us admit the general optimism that can be sensed around; there is faith for a new beginning, for real change to take place… People are happy we are staying focused on our plan. We set annual goals … We will use this honeymoon period to maintain the positive momentum".
He also made it clear that "We believe tax cuts will enhance tax compliance" and underlined three elements: "changing tax policy, tax cuts for everyone and not just a few, reducing the tax burden on real estate". He noted that he respects President Macron but considers his move wrong to reduce taxes for the rich. On the same subject, he underlined that "the economic climate index is moving upwards after the election of the new government, as opposed to other European countries, such as Germany". He emphasized the fact that Greece borrowed at a negative rate yesterday, "something inconceivable not long ago", while focusing on the unblocking of investments, such as the one in "Elliniko". /ibna