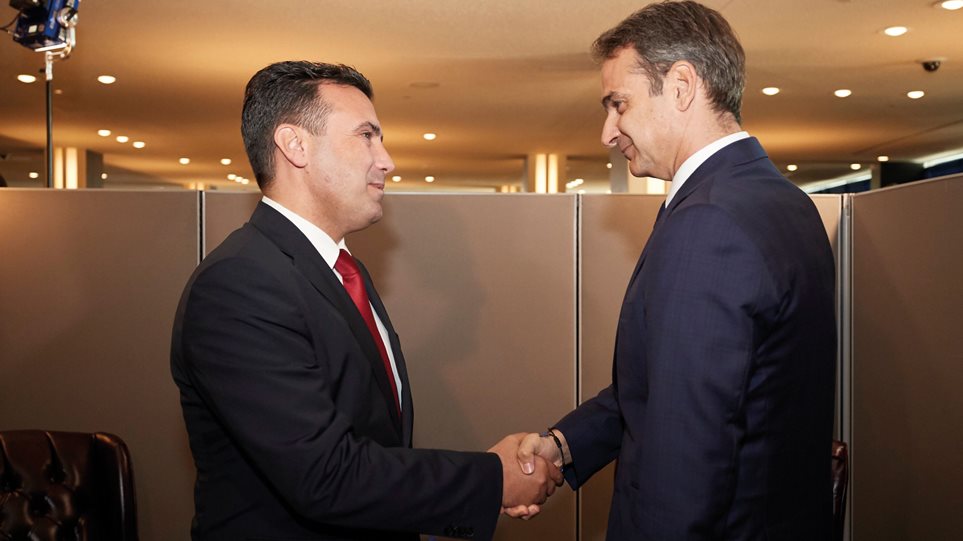 Prime Minister Kyriakos Mitsotakis, for the first time, refers to North Macedonia by its constitutional name in an interview on the Politico website, as part of his presence in Brussels for the Summit, and what's more stands in favor of its accession prospects.
Responding to Politico's questions, he says: "We have always said that we want to attach the Western Balkan countries to the European Union. We are fully aware that more progress must be made in both countries but in principle we support this process, under certain conditions … We must be absolutely sure that North Macedonia complies with the terms of the Agreement (with Athens)".
Regarding Albania, he called for better protection of the rights of the Greek minority: "I think we should send a message to these countries that, once all conditions are met, they can look forward to joining the European family at some point".
Until now, the prime minister had avoided calling North Macedonia by its constitutional name, apparently not to offend the "new Macedonians" who voted for him and were left hanging.
In the same interview, the prime minister says: "I want to introduce Greece as a country that leaves behind the crisis, which is actively involved in the European Union's agenda – looking forward – and a country that is developing as we believe with rates above the European Union average, a country that attracts investment".
And he continued defaming the country: "In the recent past, whenever Greece was at the center of discussions it was usually not for the good. The hope is that we have left those days behind us.
Both in both the interview and his two official statements before the EPP meeting and before the Summit, Kyriakos Mitsotakis introduces himself to the public as the leader of a democratic victory, but the Greek image presented by the Prime Minister abroad is not the best: it is the image of a country that has been in the constellation of populism for many years and which will now return to growth. It's just that for at least the last four years Greek citizens have literally bled to implement a memorandum, which can characterized nothing but populistic, while the country's economy is growing, albeit slowly already from 2017, with 2019 projected to close about 2%. The image presented by the Prime Minister in an attempt to hurt his political opponent, Alexis Tsipras, does injustice to the sacrifices of the Greeks. But the international community does not see ND and SYRIZA, it sees a country as it is presented by its prime minister.
He referred to Turkey covered by European positions and called on EU leaders to "take a clear stand that the European Union should unanimously condemn what is happening in Syria", while the European Council should "reaffirm its statement at the level of the General Affairs Council on a framework of targeted sanctions against those involved in illegal drilling within Cyprus' Exclusive Economic Zone".
He appeared tougher for the immigrant because, as he explained, "we are facing increased numbers of refugees and immigrants who are exhausting the strength of my country. Therefore, it is clear that on this front we need greater European solidarity". In this context he said, it is unacceptable for Turkey to use immigration as a lever and to pressure the European Union to receive more financial aid … The European Union needs a Plan B to ensure that what it does today is an emergency that will not turn into a generalized crisis"./ibna