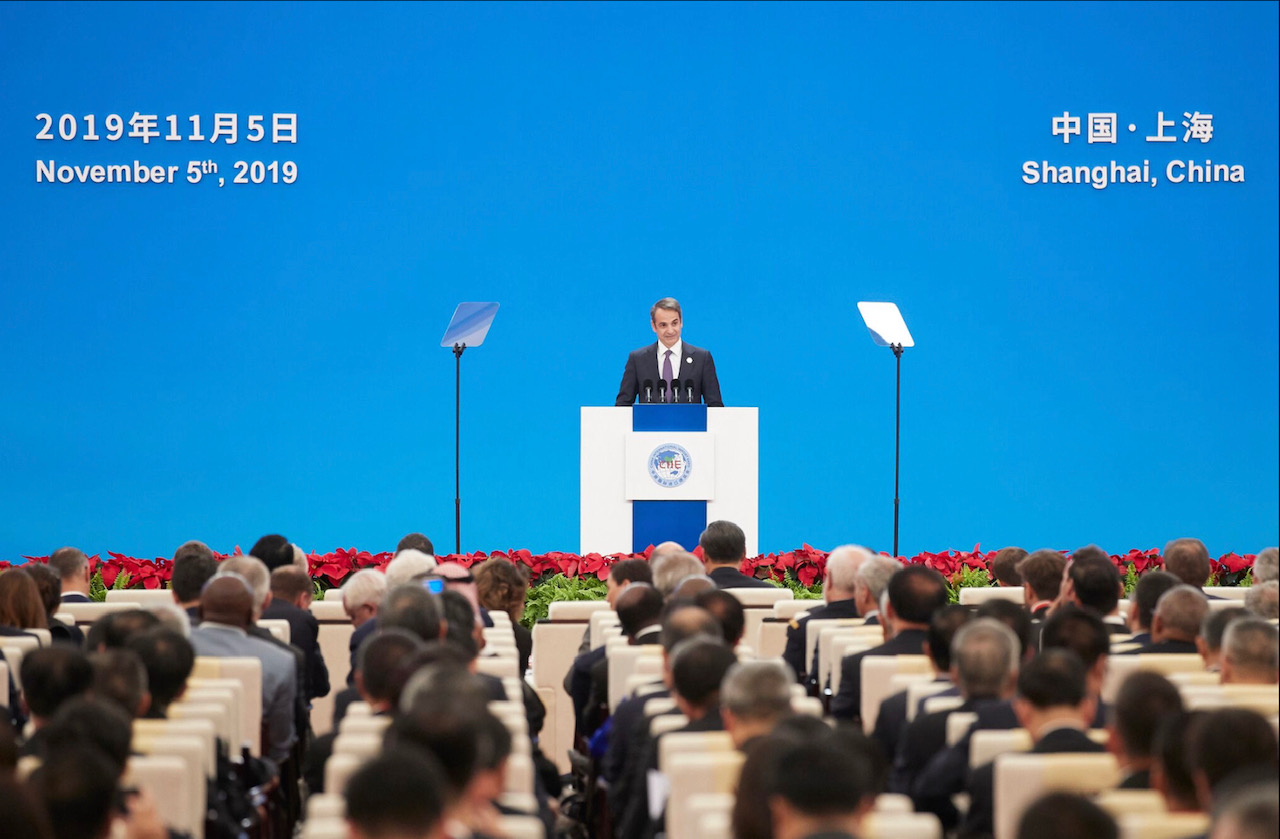 The Chinese president to visit Greece next week
The Chinese president is expected to pay a visit to Greece next week, revealed the Greek prime minister during a speech at the opening ceremony of the China International Import Expo 2019 in Shanghai.
The prime minister cited Cosco as an example of a success story in Greece and reiterated once again that with his three-month governance the country is emerging from the darkness of the long and painful 10-year economic crisis. However, he has lowered expectations for growth "close to 3%", (2.8% budget forecast), from the 4% needed for the country to recover", as he had said before the elections.
Mitsotakis did not originate, as the same visit with the same references had been made by Kostas Karamanlis, Antonis Samaras and Alexis Tsipras. As for Greek businessmen, they face the same smiles and promises at the beginning and the same difficulties to even promote agricultural products in the Chinese market. In the end, only with the investment of COSCO in the port of Piraeus and in the related fields of logistics and the trade route to Europe there appears to be an expansion of cooperation. Even the development of the harbor, however, as Antonis Samaras had already found, stumbles upon European reactions from Hamburg and Rotterdam. That is why Mitsotakis said in his speech that he aspires to make Piraeus one of the three largest ports in Europe.
Shipping and synergies
In his speech, however, Mitsotakis referred to Greek shipping and co-operation with China: "Greek shipowners control 25% of the global merchant fleet. In this, synergies with China, the world's largest export economy, are obvious. China has the potential to reach far-flung markets largely thanks to ships owned by Greeks. Many of these ships were built in Chinese shipyards. More specifically, more than 1,000 in the last 15 years, which cumulatively represent an investment in excess of USD 50 billion. If these ships could utilize high quality equipment such as environmental protection systems, lighting, electrical or navigation systems manufactured in Greece, this would further improve our synergy in a mutually beneficial way".
He made a special mention to COSCO: "COSCO Shipping's investment in Greece is an important success story not only for the relationship between China and Greece but also for our region… Through Greece, goods from Asia can reach Eastern Europe seven to ten days faster than other routes, thus saving valuable time, money and carbon dioxide emissions. My government has just approved a plan for additional investment of EUR 600 million in the port of Piraeus. It is already the largest port in the Mediterranean. It can and will become one of the three biggest in Europe".
He once again argued that thanks to the first three months of his administration, Greece is coming out of the crisis: "… After 10 very difficult years the Greek economy is recovering dynamically. A few weeks ago, Greek government treasury bills for the first time received a negative interest rate from the markets, which was unthinkable just a year ago. We estimate that by 2020 the Greek economy will grow at close to 3% annually – much higher than most European economies. All the indicators of financial confidence have recovered. We will exploit this momentum. My government was elected last July with absolute parliamentary majority and a clear mandate to restore growth, attract foreign investment and ensure a business-friendly economic environment".
Tourism
He then referred to the opportunities China offers for high quality Greek agricultural products and the protection of geographical origin to be signed tomorrow in Beijing and outlined the prospects presented in the tourism industry.
Forgetting the neo-Democrats' hostility to the refugee-populated areas, he said tourists are welcome: "Greece is, after all, the land of hospitality. Hospitality is a tradition as old as Zeus. This year we will welcome more than 30 million visitors to Greece. However, less than 200,000 will come from China. We intend to change that. We can work together to open the Greek market to Chinese tourists … I am particularly pleased that a direct flight between Shanghai and Athens is added to the existing flight between Beijing and Athens".
Concluding, he said: "Greece was the last country to join the 17 + 1 initiative, but it is the first country you will meet on the way to Europe", while addressing the Chinese president noted: "we look forward to your visit to Greece next Sunday. You will find a country that has returned to the path of sustainable development for the benefit of all its citizens"./ibna