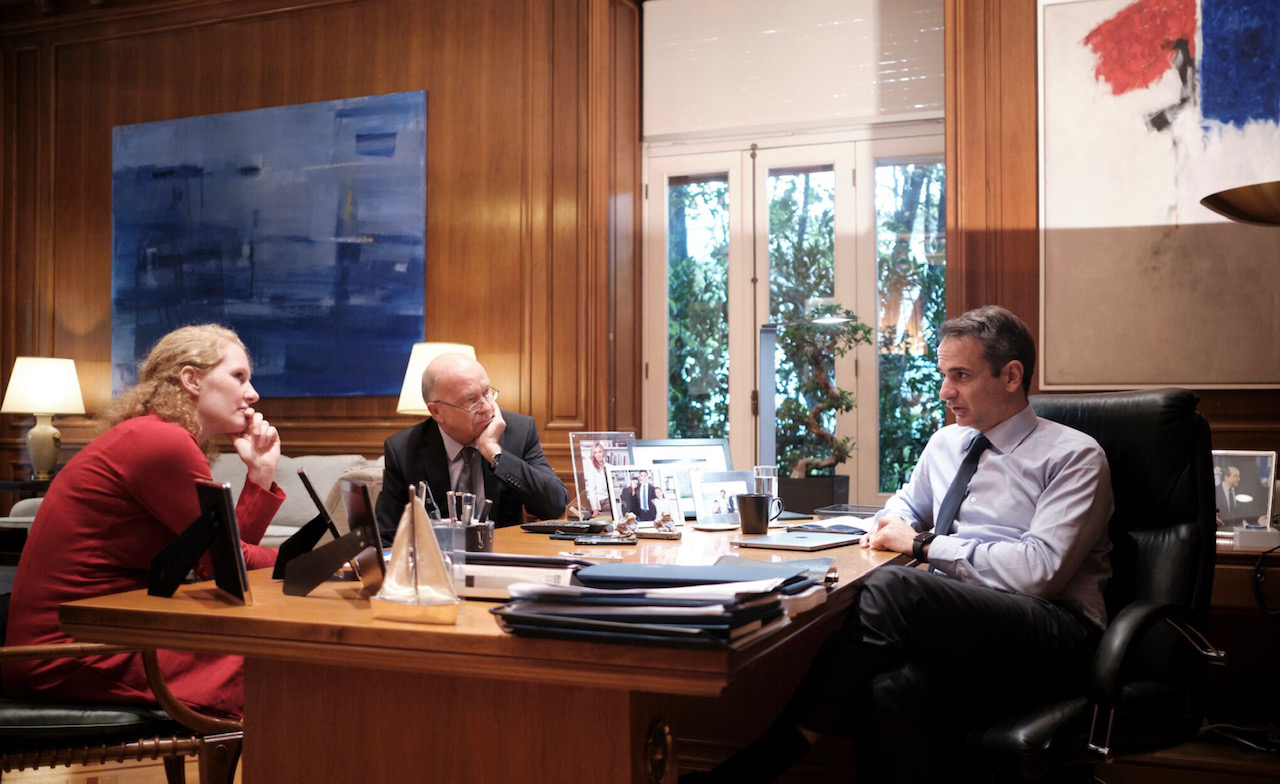 Kyriakos Mitsotakis, in his interview to the German Handelsblatt, talks about the migration issue, criticizing both Turkey and Europe.
Regarding Turkey's stance, he says: "It is unacceptable; we cannot go on like this … Turkey is trying to use the migrant issue as a way to put pressure on Europe and force it to make concessions … I told President Erdogan very openly that he cannot exploit migrants and refugees if he wants to have good neighborly relations with Greece… Lately, every time we try to reach out to the Turkish Coast Guard and point out that a boat with immigrants has left off the Turkish coast, they do not respond at all. This is unacceptable, as it violates the EU-Turkey Migration Agreement".
Referring to the European partners, he points out: "An EU country cannot claim the benefits of the Schengen area while at the same time refusing to share the burdens, as some Eastern European countries do. Europe treats countries of arrival such as Greece as convenient "parking spaces" for refugees and immigrants. Is this European solidarity? No. I won't accept it anymore".
To the question "what should be done", Mr. Mitsotakis answers that Europe cannot ignore the problem and that he cannot accept the attitude of those who "behave as if this were exclusively a problem of Greece … A solution must be provided on a European level … The European Union should promote the proposals of German Minister of Interior Affairs Horst Seehofer to reform the asylum system and the Dublin Regulation". (According to the Seehofer proposal, asylum procedures can kick off in countries located at the external borders of the European Union and be completed in other EU states).
Defamation of the country
Continuing to defame the country, Kyriakos Mitsotakis says that "high surpluses were achieved at a time when there was a very low level of trust in Greece". Of course, "the primary target of 3.5% of GDP for 2020 will be met … The government will raise the issue of reducing the target for 2021 and 2022".
In a similar vein, keeping up with the country's defamation, Mr. Mitsotakis states: "Greece has move on from the era of populism, after the previous government's 4.5 years of ruling … It was incredible the degree of incompetence they manifested during their governance. It was a painful experience and it cost our country a fortune…".
Wanting to be at the forefront of the neo-liberal attack on what is left of the social state in Europe, Mr. Mitsotakis offers "Greece to comprise the line of defense against populism". /ibna