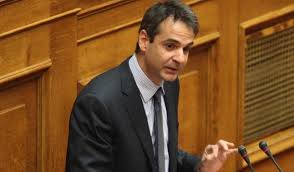 Athens, January 4, 2016/Independent Balkan News Agency
By Spiros Sideris
Revision of the Constitution on a consensual basis and "without limitations" proposes the candidate for the leadership of the New Democracy Kyriakos Mitsotakis, saying that this is what he will propose, should he be elected, on his first meeting with Prime Minister Alexis Tsipras.
In an article in the newspaper "Kathimerini", the presidential candidate of the New Democracy states that "my suggestion to Mr. Tsipras will be simple, clear and without connotations: The New Democracy will vote all articles the Government proposes as in need for revision if SYRIZA votes for all the articles to proposed by New Democracy".
"This will ensure not only that the next Parliament will be revisionary, but also that the Constitutional review would take place by simple majority, as all the articles under revision will have secured a majority in this House will exceed 180 MPs", Mitsotakis explains.
If his proposal is accepted, given the range of articles for review, the next parliament will have the character of a Constituent National Assembly.
"Given the range of articles for review, the next Parliament will have character Constituent National Assembly. And of course the next national elections will have enormous significance as it will highlight the parliamentary majority that will transform the Statute Map of Greece", he says.
"Admittedly, the problem of Greece are not only or mainly institutional. It is eminently political. Politics created the problem in Greece and from politics will come the solution", he continues, adding that "the institutional change [however] in the country and the revision of the Constitution are necessary conditions not only to cure many of the ills of our political system, but also for setting free the creative forces of the country".
"After the painful experience of default and the resounding failure of our political system, we need to rethink the institutional set-up of our society from the beginning. A discussion on the revision of the Constitution that directly concerns all citizens will engage us in a collective self-knowledge exercise and restore meaning to politics", Mitsotakis concludes.