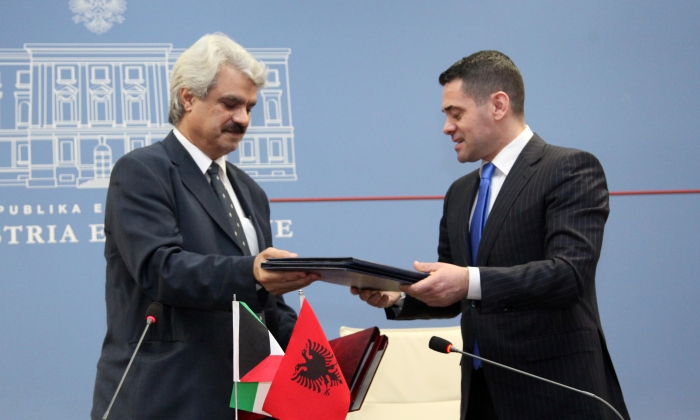 Tirana, 31 March 2016/Independent Balkan News Agency
Government of Kuwait has decided to lend Albania a 40 million USD for the rehabilitation of the Vlora river road.
The agreement was signed (photo) by the Albanian Minister of Finance, Arben Ahmetaj and the head of the Kuwait Fund for Economic Development, Al Omar.
This amount is being allocated at once. The project includes road works in a length of 94 km, it is expected to start in 2016 and end in 2019.
This loan issued by the Kuwait Fund has a 24 year maturity period and this also includes the five year period when no installments will be paid along with the contribution of the Albanian government.
The road which is being built in Vlora is an important project for this year with around 40,000 people and 60 villages.
But the road also has great tourist values. Its reconstruction will create a new corridor which is more attractive, safer and easily crossable than the current road that links the district of Vlora with the south and especially with the coast.
On the other hand, this project will guarantee economic and social development in this area and the entire district of Vlora, through the improvement of access to transport and markets, the increase of the variety and quality of services for the residents of the area, the development of the sub/branches of tourism such as eco-tourism or agri-tourism and the increase of the number of jobs.
The 94 km long project has a cost of 64 million USD and 24 million USD will be funded by the Albanian government. The road is expected to be completed at the end of 2019.
The Albanian government has a constant financial cooperation with the Kuwait Fund for Arab Economic Development. Currently the fund has allocated six loans with a value of nearly 75 million USD. /ibna/