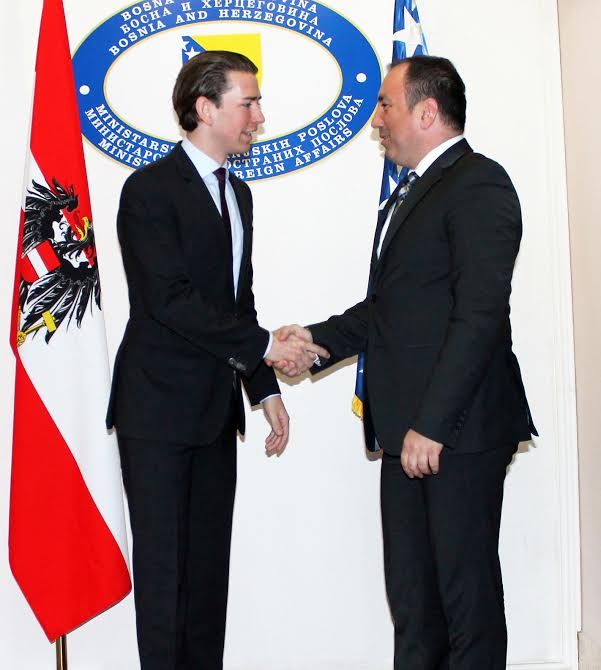 Athens, February 8, 2016/Independent Balkan News Agency
By Mladen Dragojlovic
Austria's Minister of foreign affairs and integrations, Sebastian Kurz, said on Monday in Sarajevo that his country will support the BiH efforts for faster approach to the European Union.
After meeting with highest BiH officials, Kurz said that Austria has a clear position in this issue.
"We have a clear position to support BiH and to help this state to approach the EU and in its reforms. We will continue to provide this support", Kurz said.
He commented the intention of BiH Presidency to submit application for EU membership February 15, saying that after the submission of this document, BiH opens a lot of questions to that would require answers and a lot of measures to implement. Kurz warned that BiH will have obligation to make many hard reforms, but it is in its best interest. As he said, BiH should be a part of EU but that approach is a long lasting process, which must start at once.
"All of us must do everything possible to enforce that process and make it intensive", Kurz stressed.
BiH Minister of foreign affairs, Igor Crnadak, said to the media that focus of bilateral talks was the BiH application for EU membership, which has explicit support from Austria.
"Every country its own peculiarities, so some of them spend a long time in the status of candidate for EU membership. We must put maximum effort to implement reforms necessary for this goal. In this context, the issue of the coordination mechanism is very important and we must solve it in next few days", he stressed.
Member of BiH Presidency from RS, Mladen Ivanic, said that he believes that EU answer on the application will be positive and that next year BiH will have a candidate status.
"We know that there will be some reserves about this issue but we must challenge the EU to determine if they really support BiH or want to leave the BiH as only country in region which doesn't have candidate status", Ivanic said.
Cuntrary to his optimism, there are some politicians who are skeptical and think that the submission of the application will be an "empty shot in nothing". Member of BiH Parliamentary delegation in Parliamentary Assembly of Council of Europe, Milica Markovic, earlier said to media that she spoke with many diplomats who are not excited about the application. Markovic said that, in a conversation with member of France delegation in this institution, she heard for them, that the BiH application is a unilateral move of BiH officials.
"Netherlands, which has the EU presidency in this term, over its ambassador already said that countries members of EU are not ready to discuss the BiH application at this moment because BiH didn't implement any of the three conditions that were obligatory", Markovic said.
She added that many ambassadors told her that, by their opinion, the BiH application will end in some desk drawer, pending the fulfillment of these conditions and only after that will the possible adoption of the application even begin to be considered.
Photo: FENA