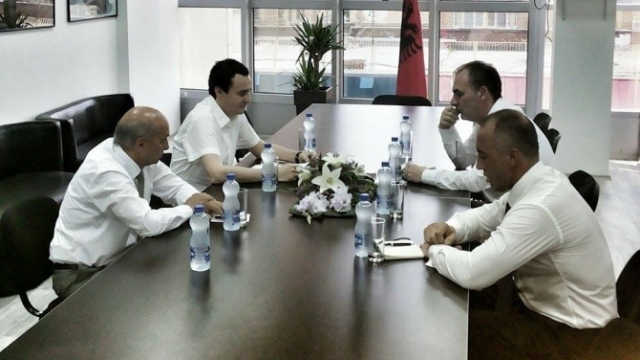 Pristina, July 8, 2014/Independent Balkan News Agency
By Elton Tota
A meeting was held today between leader of LDK, Isa Mustafa, that of AAK, Ramush Haradinaj, leader of Incentive, Fatmir Limaj and that of Self Determination, Albin Kurti.
IBNA learns that the meeting has discussed issues that relate to the constitution of the parliament of Kosovo and what the future government of Kosovo will do.
The host of this meeting, Albin Kurti said that stances are being harmonized and that they will be more unified until the constitution of parliament.
Kurti said that that it was agreed to include in future meetings experts of different domains in order to draft the program for the functioning of the future government.
He has reiterated that his party is in favor of talks, but Kosovo must impose conditions on these talks and not like the talks held so far, which according to him, have been dictated by Serbia.
Meanwhile, leader of the Democratic Party of Kosovo, Hashim Thaci, although it's difficult for him to form a government due to the pact of the opposition against, him, says that this situation will soon be resolved.
Acting prime minister says that he can see light at the end of the tunnel to take the country out of the political gridlock, where the opposition has put it, based on what he considered to be close personal interests.
Thaci says that the June 8 elections will be long remembered.
"The June elections will not only be remembered about the fact that they were free and democratic, but also because they were won by PDK for the third time through the New Mission project which is now a project of the citizens of Kosovo in spite of their political convictions".
"Above all, these elections will also be remembered for the radical transformation that they did to our society and political parties that raced. Thus, for example, PDK managed to win thanks to the New Mission national project, which goes beyond close political interests and only focuses in two crucial national topics, employment and economic development".
Thaci says that the opposition has blocked the implementation of the will of the people. /ibna/