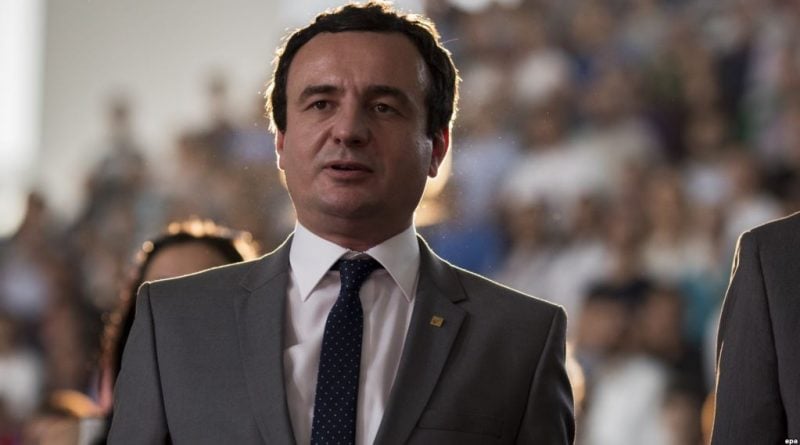 In an interview with Syri TV, Vetevendosje leader Albin Kurti said that he does not intend to begin talks with Serbia before parliamentary elections take place there.
"I met two weeks ago the [ U.S. ] special envoy and we discussed this. I do not deny the fact that peace with Serbia is necessary for peace in the region. But I cannot promise an agreement before elections in Serbia . The election campaign in Serbia gets underway in January. Who will I speak to? They have an ultranationalist campaign. I want to have the U.S. as a permanent ally but when you want something to be long-term, you cannot rush," Kurti said.
Asked what he would be willing to concede in exchange for an agreement with Serbia , Kurti said there are two things he will agree to listen to.
"The only demands I am prepared to listen to are if Serbia needs something from Kosovo to enter the EU. And to improve the lives of Serb citizens. I want to emphasize, not the Serbian weeping over the loss of Kosovo, but the suffering of Albanians. They as perpetrators have not been punished. Serbia 's demand is about Serb municipalities. That I am not ready to listen to. I can allow Serb citizens getting medical treatment in Serbia but not an association."
On the question of what he would do if the international community invite President Hashim Thaci to talks with Serbia, Kurti said that would be a constitutional violation.
"It is the Constitutional Court that has decided that the prime minister is to lead negotiations with Serbia. Hashim Thaci will lead the country but he will not be able to lead the foreign policy."
Kurti said that as the head of the new government of Kosovo he would gather the political spectrum and compile a list of demands for Serbia. Asked on whether this list could potentially block talks, Kurti said: "Even if martyrs were to rise from their graves, they would not forgive Serbia its debts, let alone we, the living. I am very curious to know what response Serbia will give. I will do this both as an Albanian and as prime minister. Serbia has killed 160,000 non-Serbs in its wars. If one Serb has killed 1,000 Croats, Bosniaks, or Albanians, there are only 160 criminals that served time in Serbian prisons"./ibna