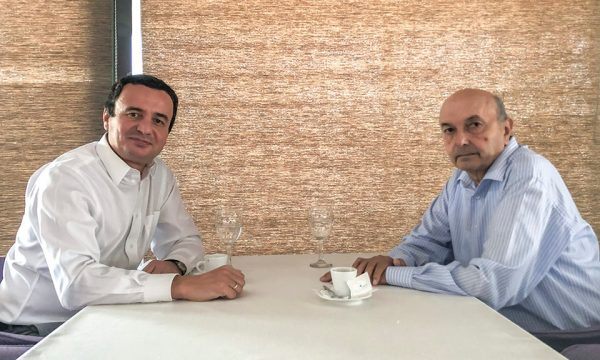 Kosovo's political parties have made efforts to secure pre-election coalitions. The deadline for registering pre-election coalitions at the Central Elections Commission (CEC) expires on Friday at midnight.
Leaders of the two main parties in Kosovo Isa Mustafa of LDK and Albin Kurti of Vetevendosje met on Thursday to discuss modalities of reaching a coalition ahead of 6 October early elections.
Main topic of meeting between Mustafa and Kurti is potential cooperation between these two political entities which in previous legislature were in opposition. Parties are negotiating of running in election under one election roll.
According to polls, if LDK and Vetevendosje merge they will win the majority of seats in the Kosovo Parliament.
Lutfi Haziri, who is leading the Democratic League's campaign, said the two parties are close to joining.
"Party leaders are working to finalize the pre-election agreement between the two entities. This is the will of the LDK and this will not change until the last minute," said Mr. Haziri.
Mr. Haziri expressed confidence in uniting the two political entities around a common coalition.
So far, two pre-election coalitions have been created, on the one hand the Social Democratic Initiative of Kosovo and the New Kosovo Alliance, and the other between the Alliance for the Future of Kosovo and the Social Democratic Party.
For the time being, the Democratic Party has not opened negotiations with any of the other parties.
Kosovo will vote on October 6, following the dissolution of Kosovo's parliament last week and more than a month after the resignation of Prime Minister Ramush Haradinaj, who was summoned for questioning at The Hague-based Special Prosecution Office war and post-war crimes in Kosovo.
These elections are seen as important for Kosovo due to the challenges the new government is expected to face, especially the issue of tariffs on Serbian goods and the resumption of suspended talks with Serbia on normalizing relations between the two countries, which is a condition for their European integration./ibna