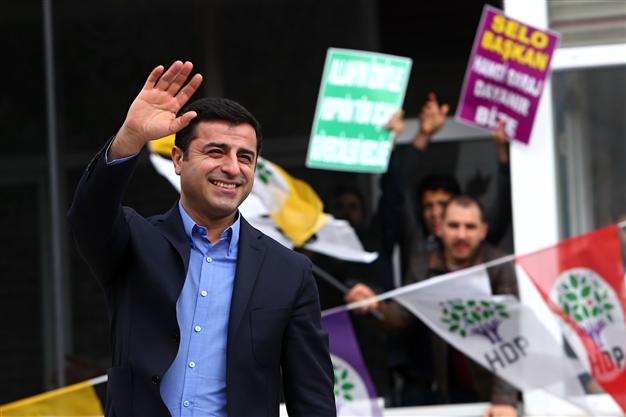 Ankara, June 7, 2015/ Independent Balkan News Agency
By Manolis Kostidis
Upadate: 
With 100 percent of ballots counted, the AKP had taken 40.68 percent of the vote and 255 seats, the CHP 25.11% and 133 seats, the MHP 16.42% and 82 seats and the HDP 13.04% and 80 seats.
From circles of the CHP it is leaked that the CHP and MHP are ready to work together to form a government, with the external support of the HDP.
——————————————————————————————————————————
The Kurds have achieved what the traditional parties of Turkey failed to do for the last 13 years, that is to overthrow the AKP.
They are the ones who prevented the Islamic party to form a majority government, causing shock in the staffs of Prime Minister Ahmet Davutoglu and President Recep Tayyip Erdogan.
About two months ago, the president of the pro-Kurdish Party Selahattin Demirtas, on the day he announced the beginning of the election campaign for the parliamentary group of his Party, had stated, "Erdogan, we will not let you become president, we will not allow it". What he meant was they would not allow him to change the Constitution to become omnipotent. He said it and he did it.
With 96% of the vote accounted for, the Justice and Development Party (AKP) won 41.1% of the vote, the CHP 25.3%, the Nationalist Action Party (MHP) 16.6% and the pro-Kurdish HDP 12.4%.
Impressive is the increase in the rates of the MHP with 3.9% compared to the elections of 2011. But the big winner of the election is the Kurds, who for the first time claimed the vote throughout Turkey and exceeded the 10% electoral threshold, which up until recently was considered insurmountable.
With these rates, in the 550-seat parliament the AKP gets 260 seats, the CHP 130, the MIP 82 and HDP 78.
Starting today, Ahmet Davutoglu must ally itself with some of the parties to continue to govern.
In Ankara is discussed the possibility of an AKP-MHP possible cooperation, but one does not exclude the possibility of new elections within 45 days.
The number of MPs of these two parties (AKP-MHP) is enough for the majority of 330 seats required to change the constitution, as is Erdogan's goal, in order to gather more executive powers to the president.
The electoral map remains changed in Turkey. Southeastern Turkey voted for the HDP, the west and south coasts, as well as eastern Thrace voted for CHP and the rest of Turkey preferred the AKP.
In the 2011 elections the AKP had received 49.9% of the vote, electing 326 MPs. The Kurds had participated in that election as independent MPs, only in cities of southeast Turkey and had received 6.5% of the vote and had elected 35 MPs.
photo: Hurriyet