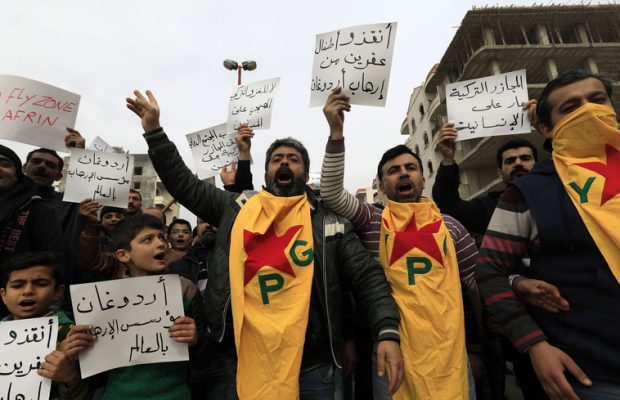 A delegation of the UK opposition Labour Party visited Kurdish-controlled areas in northern Syria to express solidarity and support against threats from Turkish troops.
The visit, on 3rd April, followed several protests by Kurds in London and in Manchester over the last two to three weeks. Protestors demanded a termination of the British support for Turkey and a condemnation of its military operation in Syria's Afrin.
The Labour Party officials condemned attempts "to destroy the Kurdish people's liberty". They promised to visit parts of northern Syria and to meet fighters of the Kurdish YPG militia, seen by Turkey as an extension of the outlawed PKK and a threat for its own southern border.
Following the capture of Afrin last month, Turkey seems determined to expand its military campaign eastwards along northern Syria. The plans have caused reaction by countries such as France and concern among Syrian Kurds.
The UK-based Syrian Observatory for Human Rights has said that up to 140 civilians are believed to have been killed by Turkey's 'Olive Branch' operation since it began on 20 January.
In the face of these developments hundreds of London's Kurds took to the streets of the British capital last weekend calling upon Prime Minister May to cease arms sales to Turkey and condemn its operations.
The demonstration came after delays and disruptions at major railway stations in London and Manchester caused by Kurdish demonstrators storming the stations and climbing on the tracks. Police had to shut London's King's Cross and Manchester Piccadilly stations.
Speaking during the latest demonstration supportive British politicians said that "the world owes the Kurds their support after Kurdish forces faced ISIS on the frontlines"./IBNA