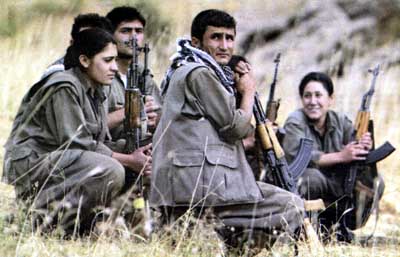 By Manolis Kostidis – Ankara
The situation in southeastern Turkey is out of control, with the Kurds lowering the turkish flag in the air base in Diyarbakir. The turkish troops were monitoring the situation without doing something. Abdullah Gul in an announced condemned the lowering of the flag and claimed that "the Turkish flag is the symbol of unity of the state."
The Kurds are outraged as in a peaceful demonstration last Saturday, men of the gendarmerie opened fire on the demonstrators killing two of them and injuring a woman.
In recent weeks the Kurds are reacting against the construction of new gendarmerie posts in the cities of southeastern Turkey, while the turkish government promises a solution to the Kurdish issue.
The PKK, which has declared a ceasefire in 2013, has once again made its presence felt in southeastern Turkey, with rebels having setting up roadblocks on main roads of the country and carrying out checks to those who pass, while also attacking at gendarmerie outposts.
The Kurds are escalating tension and pushing for the partial autonomy of the municipalities of their regions, something Erdogan had promised them during negotiations for the resolution of the Kurdish matter. They also ask to teaching the Kurdish language in their own schools. The PKK leader Abdullah Ocalan, who is imprisoned on the island of Imrali believes that Erdogan must now be pressed to make his promises reality, since in order to be elected president in the elections next August he will need the votes of the Kurds.