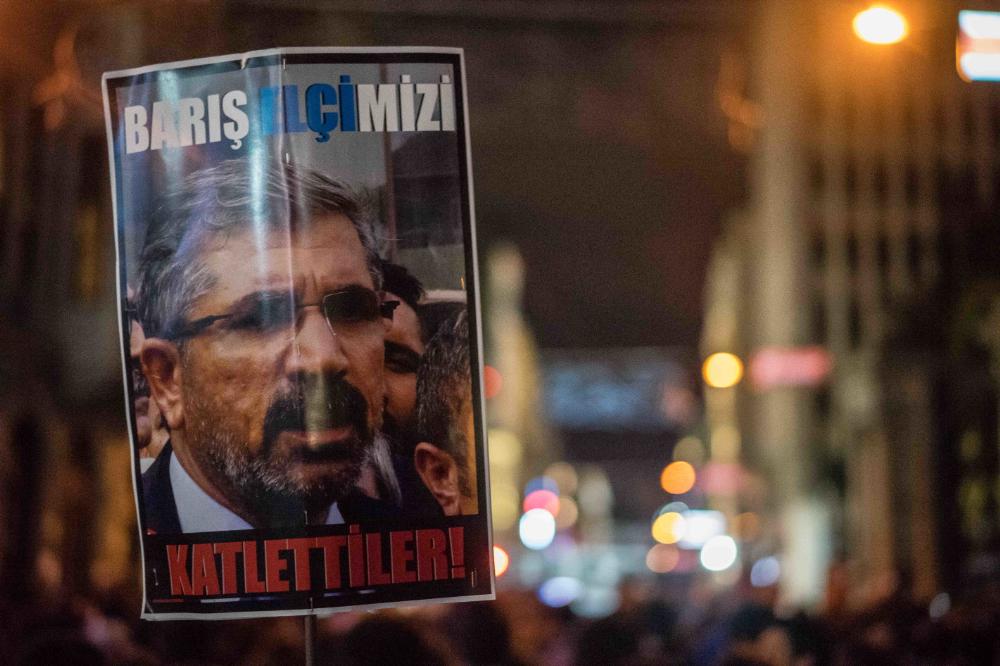 Ankara, November 30, 2015/Independent Balkan News Agency
He had been threatened
The Kurds speak of a work of the parastate
By Manolis Kostidis
The assassination of the president of the Lawyers' Association of Diyarbakir, Tahir Elçi, in Sur of Diyarbakır, could have been "common news" nowadays in Turkey, where clashes of the PKK with Security forces are now a daily phenomenon, with dozens of civilians losing their llives in the attacks.
But Tahir Elçi, apart from an advocate of the Kurdish cause, had become the target of nationalists about two months ago, when a television show on CNN Türk, stated that "the PKK is a terrorist organization".
Since that day he had drawn the ire of nationalist groups. The prosecutor of Diyarbakir had asked to be placed in custody. The reactions of the Kurds have prevented this from happening. At the same time, the Broadcasting Council of Turkey had imposed a fine on CNN Türk for transmitting Elçi's opinion live!
The Kurdish lawyer since that day had been accepting death threats via phone and internet. This is why his assassination roused a storm of reactions.
His funeral in Diyarbakir was attended by 50,000 people. In Istanbul, thousands of people demonstrated in Pera, with the police using tear gas to prevent the peaceful march. In many cities of southeastern Turkey many people have taken to the streets to demonstrate for "the tragic fighter".
Who pulled the trigger?
The cameras that recorded the incident however, show the police trying to protect themselves from the fire when in front of them passes a man dressed in black who continues to shoot. Directly behind them was Elçi, who was talking to the television cameras. The shooting lasted several minutes. The tragic account of the attack is two dead and many injured.
The incident began when a taxi arrived in the area. Police tried to search the vehicle, but those who were in the taxi opened fire at and then moved towards were Tahir Elçi was.
The Turkish authorities are investigating the image of a man with a beard recorded by the cameras running with a pistol in hand, who is thought to be the killer of Elçi.
The pro-Government Press argues that Elçi was killed by the PKK! The Kurds say the attack is the work of paramilitary forces.
Even the prosecutor who visited the spot where Tahir Elçi was killed, was attacked by machine guns! There are some who want to block the investigations.
"There may have been a plan to assassinate Tahir Elçi. The goal is clear, the goal is Turkey. The incident will not remain unresolved. There will be investigations and we will inform the public", said the Prime Minister of Turkey Ahmet Davutoglu.
The president of the pro-Kurdish HDP Selahattin Demirtaş argued that "the Elçi was killed by the absence of the state".