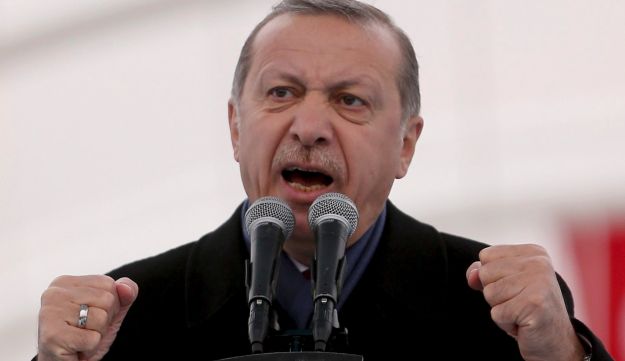 Erdogan is infuriated with U.S. support to Kurds in Syria. 
Tehran and Ankara appear satisfied with last weeks' developments in Syria and Northern Iraq, since most analysts estimate that the possible creation of a Kurdish state in the Middle East will not happen.
First of all, the Kurds retreated and lost oil-rich Kirkuk within 24 hours. Now the area is under Iraqi and Iran-backed Shia militias. Almost at the same time, the Kurdish alliance of ΥPG-PYD, occupied IS's stronghold, Raqqa.
However, the Turkish government deeply dislikes the fact that immidiately after occupying Raqqa, YPG raised not only their flag but photos of jailed Αbdullah Ocalan of PKK, who is imprisoned on Imrali, Turkey.
Turkish president, Recep Tayyip Erdogan has never stopped reapeating, especially during his speeches, that YPG is PKK's branch organisation, calling the Kurds who fight against ISIS, a terrorist group.
Speaking at a TRT World television forum, Erdogan said «Who has PYD and YPG terrorist groups next to them? The U.S. of A. I proposed to president Trump to fight the IS together. The 2nd battalion is ready. And he tells me 'we will do this together with the PYD.' After that, they suspend the visas… So, there I am again, putting our strategic cooperation back on the table.»
Basically, the Turkish president openly shows his discontentment with Washington, which, according to Ankara has sent 3,500 truckloads of weapons to the Kurds in Syria…/IBNA