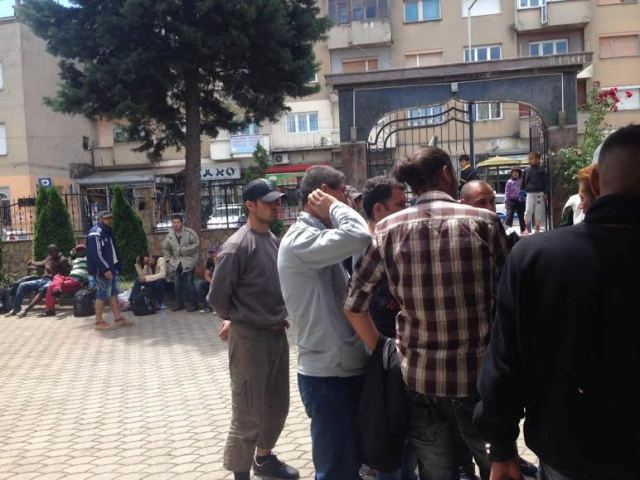 Skopje, 22 June 2015/Independent Balkan News Agency
By Naser Pajaziti
The  city of Kumanovo has turned into a center of gathering for thousands of refugees from Middle East.
Their gathering is the mosque of the city, which has been filled with refugees and turned into a camp. Voluntaries from humanitarian organizations, but also common citizens have offered themselves to help the refugees.
Traveling for several thousands of kilometers, the death of family members on the mountains, the suffering of the children, hunger and survival without bread or water for more than three days are some of the testimonies given by refugees, who explain their journeys from Syria and Afghanistan, in order to save their lives.
They say that they will always be in debt to the citizens of Kumanovo, who are helping them by offering medical and humanitarian services and everything else needed.
Mohammad al-Mousa, an elderly Syrian says that he's surprised by the solidarity shown by the citizens of Kumanovo.
"We have found this help and support nowhere else during our journey. Your people will be a symbol of humanism for us", says for IBNA Mohammad al-Mousa, a Syrian intellectual, who along with his family had traveled  from Syria to Turkey and then to Greece, in order to end up in FYR Macedonia.
Citizens of Kumanovo show their solidarity
Teacher Emine Kurtishi is a prominent humanist who lives in front of the mosque of the city. She says that along with her daughter, they have given everything for the refugees during the winter days.
"Since winter, we have seen refugees seeking shelter in the mosque. We have been terrorized to see children freezing from the cold and women who sought help. With my daughter, I have started to prepare soup and hot milk. We have done this for days and nights in discretion, because we didn't want police to see us, as supporting emigrants was forbidden", Emine says.
There are many voluntaries who offer their help like Emine. Ziska is a Macedonian painter, who is also staying in the mosque to help the refugees. "I came here several days ago and I'm trying to offer my contribution. I am distributing supplies, but when there was a need, I have also healed wounds", Ziska says.
Inside the mosque, there are also activists of different humanitarian organizations, but also the Macedonian Red Cross, which is helping in offering medical services. Voluntary doctors have arrived in the mosque from other cities offering their help.
Journey on foot and desperation
Alua is a Syrian man who used to work as professor of physics. He says that he has gone through many things during his journey of thousands of kilometers.
The majority of emigrants is from Syria to Turkey. Then, through sea or land they reach Greece and end up in FYR Macedonia.
"We left to escape death. We departed several months ago from Syria, going through many difficulties and reaching Turkey. We have suffered a lot during this journey. We arrived in Greece and then in Macedonia. Here in Kumanovo, we feel as if we are in paradise. We feel free", Says Alua K, who speaks English.
Alua says that a part of his family has remained in Syria. He adds that people are leaving Syria every day and hundreds of others are dying in an attempt to leave. "We have paid one thousand euros each to travel by boat from Turkey to Greece. The boat could only hold 20 people, but it was filled with 50 people. We saw death in the middle of the sea. There were people who died because they could not survive the strong sea. We are terrified", Alua says.
Housamm Kanaboe is an emigrant from Somalia. Along with his wife and children he has sought shelter in the mosque of Kumanovo.
"We have gone through a lot and we have seen death in the eye. 20 friends and relatives died on route to here. We have buried them where we could, because we had no other solution. We have been victims of smugglers and different groups who have robbed us and left us with no money. Along with my friends, I have traveled three days without bread and water", Housamm says.
Asked where they want to go after Kumanovo, the majority of them say that they want to go to Germany, but also in France and Belgium, where they say that they have relatives. They admit that they have spent up to 3 thousand Euros for the journey, but that they also were victims of robbery by trafficking groups in border areas.
Such case is also confirmed by an Afghan man, who says that along with a group of 20 people, he has been victim of a group wearing police or military clothes.
"They have stopped us in a mountain area as soon as we crossed the border with  Greece. They asked us for all the money that we had. We resisted because we knew that they were traffickers, but two of them were wearing military or police uniforms. I cannot confirm if they truly were that, but we have reported this to the police", says the Afghan refugee.
In order to avoid the large number of refugees and their illegal movements, this week the government in FYROM adopted a new bill on refugees and asylum. With the new legal changes, are enabled legal stay of 72 hours in the territory of FYROM and then they can leave in a legal way. Another possibility offered to them is to apply for asylum in FYROM, but the majority of them do not want to remain in the country. /ibna/