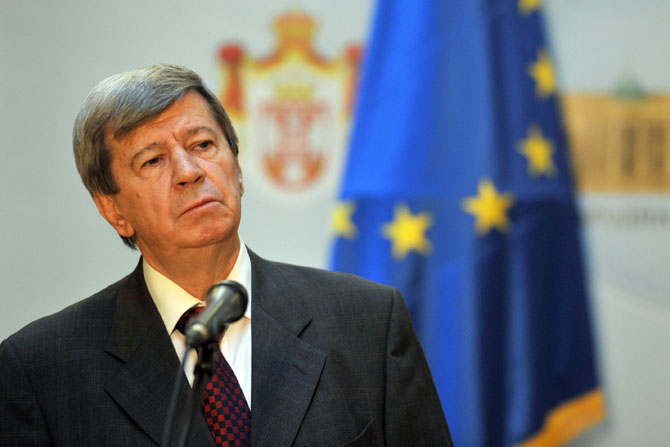 Belgrade, March 20, 2015/ Independent Balkan News Agency
By Milos Mitrovic
It is indecent to advise somebody who did not ask for any advices, Serbian President's cabinet stated today in reaction to European Parliament official's statement.
Eduard Kukan, head of EU-Serbia Stabilization and Association Parliamentary Committee, previously said that President Tomislav Nikolic should not attend the military parade in Moscow on May 9. The manifestation will be organized to honor the 70th anniversary of the Second World War Victory Day. However, most of EU member states leaders and U.S. President will boycott the parade amid disagreement with Russia over Ukraine crisis. Nikolic confirmed earlier that he will be attending.
"It never happened that President Nikolic or any other Serbian politician gives advices to the president of his (Kukan's) country about where he should go or what he should do", Nikolic's cabinet underlined. Kukan is EP member from Slovakia.
Kukan "advised" Nikolic in the interview for today's Blic daily.
Furthermore, President Nikolic's aides stressed that Kukan "vainly puts pressure on President of the Republic to make a decision which is not in the interest of Serbian citizens". "The vast majority of the citizens share the position that our country should maintain the best possible relations with all, including Russian Federation. The President represents this position unequivocally and nobody will be able to change this including Mr Kukan", Nikolic's cabinet emphasized.
Recently, Russian Foreign Minister Sergey Lavrov said that Nikolic is expected in Moscow on May 9, together with Milorad Dodik, Bosnian entity Republic of Srpska President; 26 countries have confirmed their leaders attendance at the parade.
Nikolic's presence at the parade will also be an opportunity for him to meet his Russian counterpart Vladimir Putin, for the sixth time in recent years. From his part, Putin visited Belgrade twice, last time to attend military parade in Belgrade in October 2014. The visit was under EU's high attention due to Serbia's aim to join the block.