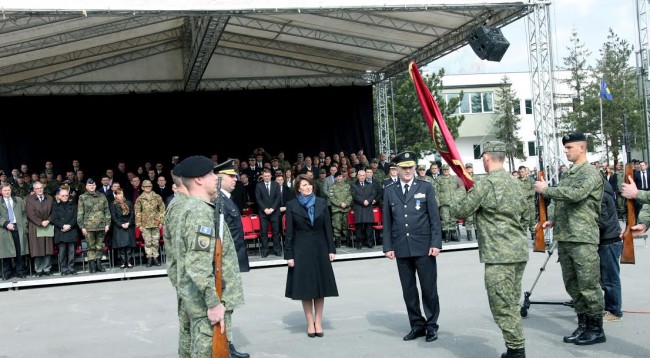 Pristina, March 18, 2015/Independent Balkan News Agency
By Elton Tota
In a ceremony organized today in the "Adem Jashari" barracks, the president of Kosovo, Atifete Jahjaga decreed general Rrahman Rama as chief of Kosovo Security Forces.
This change followed the retirement of the former head of Security Forces, general lieutenant Kadri Kastrati.
During this ceremony, president Jahjaga thanked Kadri Kastrati for the work that he did in consolidating KSF.
In her speech, Jahjaga said that she praises the untiring work that KSF does, by considering it as the most trusted institution in the country.
Jahjaga has encouraged KSF for the future, as it's getting ready to be turned into an army and as it aspires to become part of NATO.
The president said that she feels honored of participating in this change of command and has congratulated all members of this force for their work in building the future of Kosovo.
"The building of institutions has been a challenge in order to fulfill the dreams of entire generations for a sovereign Kosovo. We responded these challenges with optimism. Along with our partners, we managed to declare Kosovo an independent country and to make it a member of many international organizations. We took important decisions and we sought cooperation even when this was not easy, in order to consolidate free Kosovo", said president Jahjaga in this ceremony.
Jahjaga said that she's hopeful that the confidence on Kosovo Security Forces will grow even more.
Present in this ceremony were also PM of Kosovo, Isa Mustafa, KSF Minister, Haki Demolli, KFOR commander, Francesco Paolo Figliuolo, ambassadors and military attaches accredited in Kosovo, NATO representatives and other political and military figures.
Kosovo's PM, Isa Mustafa, said that the government that he leads will do everything in order for KSF to turn into an army, which according to him, will serve peace, fight against terrorism and security in the region.
"KSF is an important factor of peace and stability, contributing in peacekeeping missions throughout the world. We believe that Rrahman Rama will continue to transform the Armed Forces", said Mustafa, thanking general lieutenant Kastrati for the achievements made so far by KSF and its transformation into a professional force. /ibna/