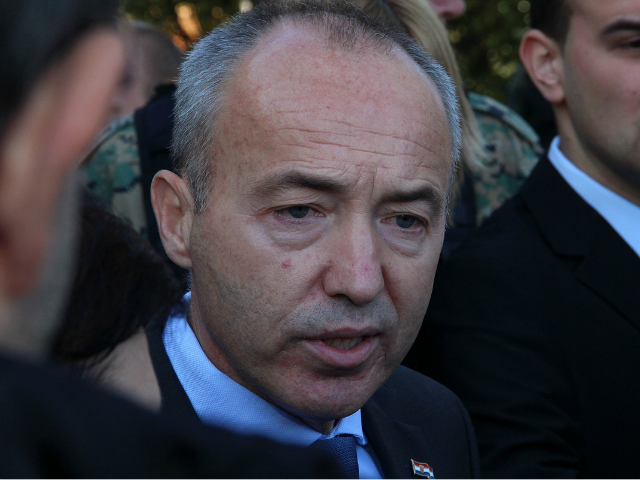 Croatian Defence Minister Damir Krsticevic said on Wednesday that he expected the judicial authorities in Bosnia and Herzegovina to prosecute war crimes without discrimination or political pressure, while his Bosnian counterpart Marina Pendes said that there had been a selective approach in previous cases.
"Every crime must be punished. But judicial authorities must be independent, free from any political pressure. There must be no discrimination in that some people are tried in one way and others in another," Krsticevic said while responding to questions from the press during his visit to Medjugorje, southern Bosnia and Herzegovina.
He stressed that all international standards must be applied in prosecuting war crimes.
Commenting on recent indictments against Bosnian Croat HVO veterans, Pendes said that a selective approach had been taken.
"As Minister of Defence, but also as a member of the Croatian Defence Council (HVO), I personally and my party condemn all crimes and they must be prosecuted. But if you analyse this matter, you will see that sometimes it is approached selectively," Pendes said.
Asked if he was afraid to go to Bosnia and Herzegovina, following Serbian media reports that he might be arrested for war crimes units under his command had allegedly committed in western Bosnia in 1995, Krsticevic said that he had encountered no problems while crossing the border. He pointed out that he was a minister of a NATO and EU member state and an advocate of peace and stability in the region and of support to Bosnia and Herzegovina.
"I have come here to see how we can advance our defence cooperation, that's my responsibility," Krsticevic said.
Asked why he had come to Medjugorje and not Sarajevo, Krsticevic said that he would certainly visit the capital of Bosnia and Herzegovina. "Next week I will host a meeting in Croatia. I don't see why we shouldn't meet in Sarajevo in the future," he said.
Pendes said that she had invited her Croatian counterpart to Medjugorje. "Medjugorje is in Bosnia and Herzegovina. Sarajevo is not the only city in Bosnia and Herzegovina," she added.
During an hour-long meeting, the two defence ministers discussed training for young Bosnia and Herzegovina army officers at the Croatian Military Academy, joint participation in the military mission in Afghanistan, and security challenges such as terrorism.
"Today there are a lot of security challenges, asymmetric threats. There is a lot of terrorism, extremism and radicalism. We need to have security systems in place in both Croatia and Bosnia and Herzegovina to be able to respond to all such threats and risks facing the two countries. That's why joint action is very important," Krsticevic said.
Pendes cited peace and stability as their common goal and a precondition for further economic development so that young people would not continue leaving the two countries in search of better livelihoods.
The meeting was also attended by the Croat member of the Bosnia and Herzegovina Presidency, Dragan Covic. After a brief conversation with Krsticevic, Covic left the meeting and would not talk to the press.
Krsticevic also visited the Marian shrine in Medjugorje and met with parish priest Marinko Sakota./IBNA
Source: eblnews.com