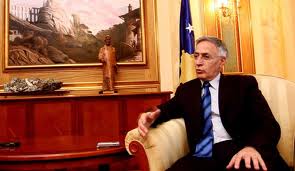 Pristina, April 29, 2013-The speaker of parliament in Kosovo, Jakup Krasniqi has expressed his skepticism as to whether Kosovo will be able to stop the referendum warned by the Serbs in the north of Kosovo, but he says that the laws of Kosovo prohibit such thing.
"According to the Constitution and laws of Kosovo, another country is not allowed to hold a referendum in our country. This process is difficult to be prevented, but it's important for the international community not to recognize the referendum held in Kosovo", said Krasniqi.
This was rejected by the head of the parliamentary group of the Alliance for the Future of Kosovo, Ardian Gjini. "Nobody can declare a referendum in the territory of Kosovo. We will not allow such referendum to be held. It's another issue as to whether our state can prevent this or not", said Gjini.
The President of Kosovo has rejected the holding of this referendum by saying that Kosovo will not allow the holding of this referendum inside the territory of Kosovo. Meanwhile, the Serbian Prime Minister, Ivica Dacic has warned a visit tomorrow in the north of Kosovo to talk with the Serbs about the referendum which has been warned and to whether they will accept or not the agreement reached in Brussels. /ibna/