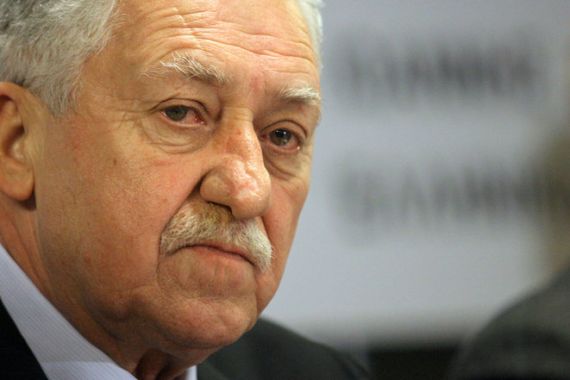 By Spiros Sideris – Athens
In DIMAR's effort to achieve the total return to the political scene mentioned party president Fotis Kouvelis, during a press conference in Kalamata, in view of the third party Congress.
According to Kouvelis, the Congress of DIMAR coincides with a time when society continues to pay the heavy price of the crisis, while he stressed that the debt is unsustainable and underlined the need to achieve its restructuring.
"To make debt sustainable it needs to be restructured", said Kouvelis and described ENFIA and over-taxation as a noose around the neck of the citizens, which have exhausted their ability to pay taxes.
The president of DIMAR referred the measures that are being imposed as unjustly and noted the significant delays in tax audits, with a prime example, as he noted, the "Lagarde" list.
He expressed the view that the disaster of ENFIA and the explosion of unemployment do not allow the government to go to the polls, noting that elections will be held only if it is not made possible to be elected a president of the Republic.
Kouvelis reiterated that in the framework of programmatic agreements it is possible achieved the convergence of forces that agree to the need for an alternative progressive governance, and stressed that DIMAR will work in this direction.
In regard to PASOK, he said that they experience the contradiction to participate in the government policies, while simultaneously wanting to appear as an opposition force. He stressed that if PASOK changes its attitude, it can become part of a progressive government, noting that there are forces within the party that emphasize precisely this need.
Asked to comment on the programme of SYRIZA, the President of DIMAR stressed that despite the fact that SYRIZA is still attached to unrealistic and dogmatic views, it moves towards more realistic and more moderate positions compared to the past.
Finally, in respect to the issue of the election of the president of the Republic, Kouvelis stressed that DIMAR will express its position in the constitutionally estimated time and in line with the policies at the time, and reiterated that he is not concerned with the rumours that want him one of the candidates for the presidency. "I am a president", he said "of DIMAR, and I am interested to be part of the reconstruction of the area of Democratic Socialism".