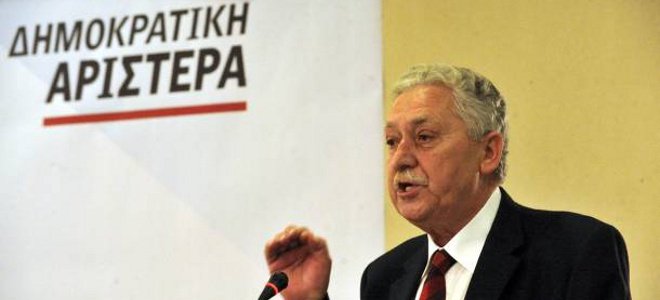 Athens, December 16, 2014/ Independent Balkan News Agency
By Spiros Sideris
The country's politics should distance itself from the notions of apostasy,  venal and facilitators answered President of the Democratic Left Fotis Kouvelis, in a question whether he will consider an apostate any of his party's MPs who votes for President of the Republic in the upcoming ballots.
In his interview in STEP FM, however, he reiterated that in the previous session of DIMAR's Parliamentary Group, it was decided unanimously that the stance of the MPs will be negative for the election of the President, from the first to vote on Tuesday.
When asked about the issue of apostasy, Kouvelis noted:
"I distance myself from excommunications on grounds of apostasy, venal and all related. In any case, all MPs, including the MPs of DIMAR weight the political situation as a whole. As part of this evaluation they have decided that they will not vote for a President. So it would good for the country to distance itself from characterisations and logics of venality, facilitators and all that. It is obvious that (if a DIMAR MP votes for President) I will not consider him a defector, venal, etc".
Asked about the possibility of an electoral cooperation with SYRIZA or the autonomous descent of DIMAR in case of early elections, Kouvelis replied that all possibilities are open.