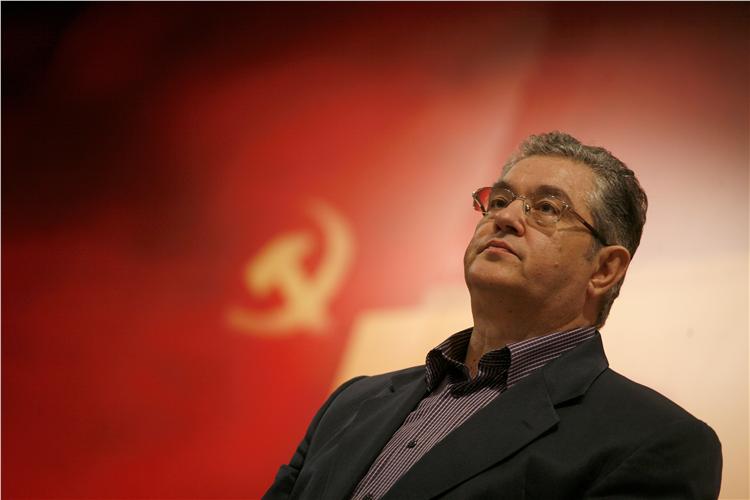 By Spiros Sideris – Athens
Leader of the Greek Communist Party (KKE) Dimitris Koutsoubas, has categorically excludes any possibility of cooperation between KKE and SYRIZA, , while at the same time unleashed an attack on opposition party, noting that there are only few differences left between Alexis Tsipras with Antonis Samaras.
"There is no common ground, neither to big issues or to small ones. We were not even unable to agree on the 751 euros for the minimum wage", said the general secretary of the Communist Party, in an interview on the radio station "Parapolitika 90.1".
Commenting on the developments with the Troika, Koutsoubas said that "it is a repetition of the same saga we have seeing five years now. The pressures, retreats and blustering give and take, but in the end the people are the ones that will be asked to pay".
He estimated, moreover, that "probably in March we will go to elections, because finding the 180 MPs required for the election of a new President of the Republic  doesn't seem possible".
Referring to the scenarios of a meeting between Samaras and Tsipras, the general secretary of KKE stated:
"I do not see why there cannot be a discussion between Samaras and Tsipras as the differences between them are very few. ND and SYRIZA follow two different paths, only the path of the ND leads us directly over the cliff, while that of SYRIZA leads us to the neighboring swamp and this is even more dangerous".
Finally, he heralded an "opening" in the ballot of the party, saying that there will also be non-party members, but, he added that they will be "people who are close to the struggles and did not come as paratroopers to find a position in Parliament".