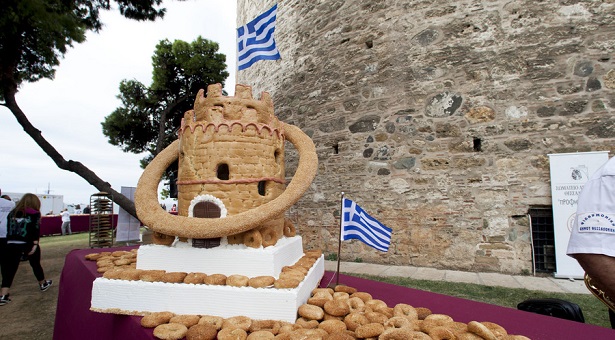 By Hari Stefanatos – Thessaloniki
A place in the Guinness Book of Records claims the giant Thessaloniki bun, known as "koulouri" , which was made on Sunday in a special platform in the White Tower, embracing the iconic monument of the city. Indeed, the traditional bread of the city, had a diameter of about 165 meters, the preparation of which required 700 pounds of flour and 250 sesame seeds, was consumed in record time by the citizens, residents and tourists, who had gathered early on the site, in order to observe the process.
Bakers from Thessaloniki – groups and members of the Association of Bakers "Prophet Elias" – "raised their sleeves" early on Saturday to begin preparing the dish, which is a hallmark of the city.
Initially about 250 pieces of "koulouri" were made, which the "experts" began to bake by dawn Sunday. Then the individual pieces were put together (with icing as glue), creating the largest Thessaloniki bun in the world, which was consumed by the citizens (to whom smaller buns were being given earlier).
The creation of this special bread as part of "Thessaloniki Food Festival" of the Municipality of Thessaloniki, "tied" the festivities with the races of the World Coastal Rowing Championships, held in Thessaloniki on Sunday, having attracted visitors from various countries. Thus, athletes and their supporters from abroad had the opportunity to experience the traditional dish of the city that hosts the championship.
The preparation of the "koulouri" was realised under the auspices of the Municipality of Thessaloniki and with the support of companies "Mills of Crete" and "Haitoglu Bros", which provided the raw materials. Indeed, for the purposes of the event a miniature of the White Tower was also constructed, which was surrounded by buns!
The event was attended, among others, by the prefect of the region of Central Makedonia, Apostolos Tzitzikostas, the head of the major opposition in the municipality of Thessaloniki, Stavros Kalafatis, the Executive Advisor on Tourism, Spiros Pegas and the chairman of the Chamber of Crafts (VETH), Panagiotis Papadopoulos. The action was aimed among others to confirm the localisation of the "koulouri", which history is inextricably linked with the city of Thessaloniki.