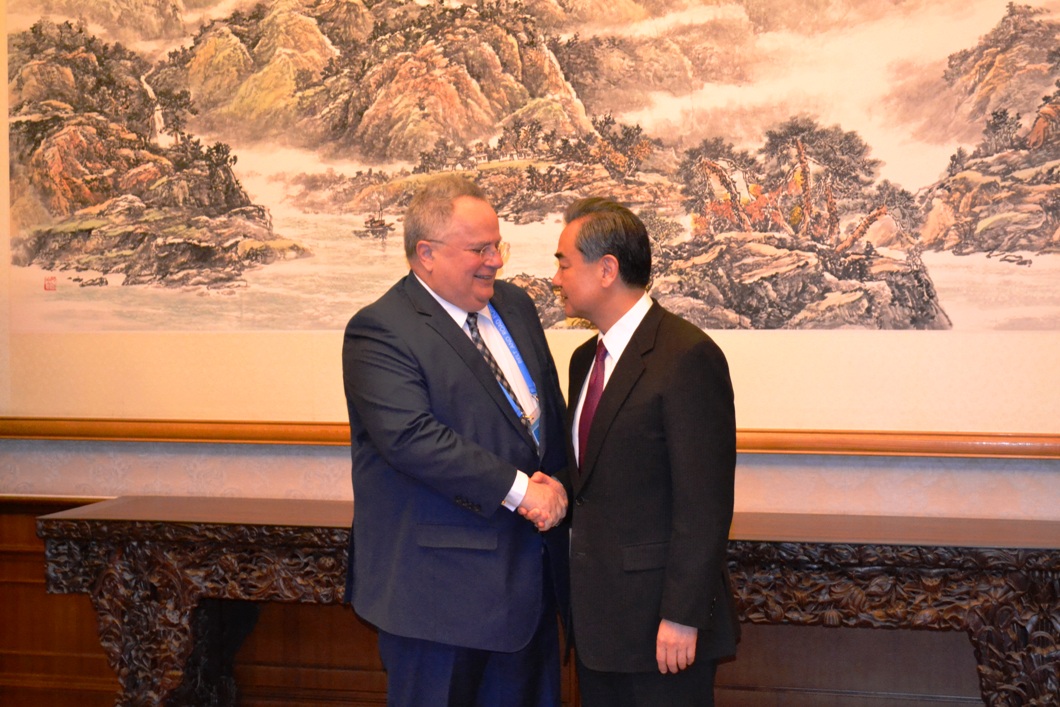 Greek Foreign Minister, Nikos Kotzias, held a meeting with Chinese Foreign Minister, Wang Wi, on the sidelines of the official visit of Greek Prime Minister Alexis Tsipras to Beijing to participate in the One Belt One Road Forum, the ten-year development program implemented by the government of the country.
The meeting is held three weeks after the visit of the Chinese Foreign Ministrer to Athens where the Ancient Civilizations Forum was launched with the participation of 10 countries on the initiative of N. Kotzias.
Welcoming the Greek Minister, Wang Wi thanked his counterpart for his initiative to launch the Ancient Civilization Forum, where, as he pointed out, the Wisdom of ancient civilizations can provide Wisdom in today's difficult times.
The two countries recognize the importance of stability, Wang Wi continued, and the Ancient Civilization Forum is a link and pillar of the One Belt One Road, while Greece's efforts to shape a security structure in the wider region of Southeastern Europe through the Spirit of Rhodes , make the country a pillar of stability.
On his part, Nikos Kotzias informed his counterpart that Armenia, Chile, Indonesia, Nicaragua and Guatemala have expressed interest in participating in the Ancient Civilizations Forum, which signals the usefulness of dialogue and the importance given to the effort by the international community.
It was also agreed that political consultations between Political Directors should take place, along with the cooperation between the Directorates of the two Ministries with emphasis on issues in Europe and the Middle East as well as issues related to security and the fight against terrorism.
Finally, Wang Wi formally invited his Greek counterpart to visit Beijing with Nikos Kotzias accepting the invitation by saying that he would make his visit with the first direct flight from Athens to Beijing, which is expected to launch early autumn./IBNA
Photo: IBNA/Spiros Sideris