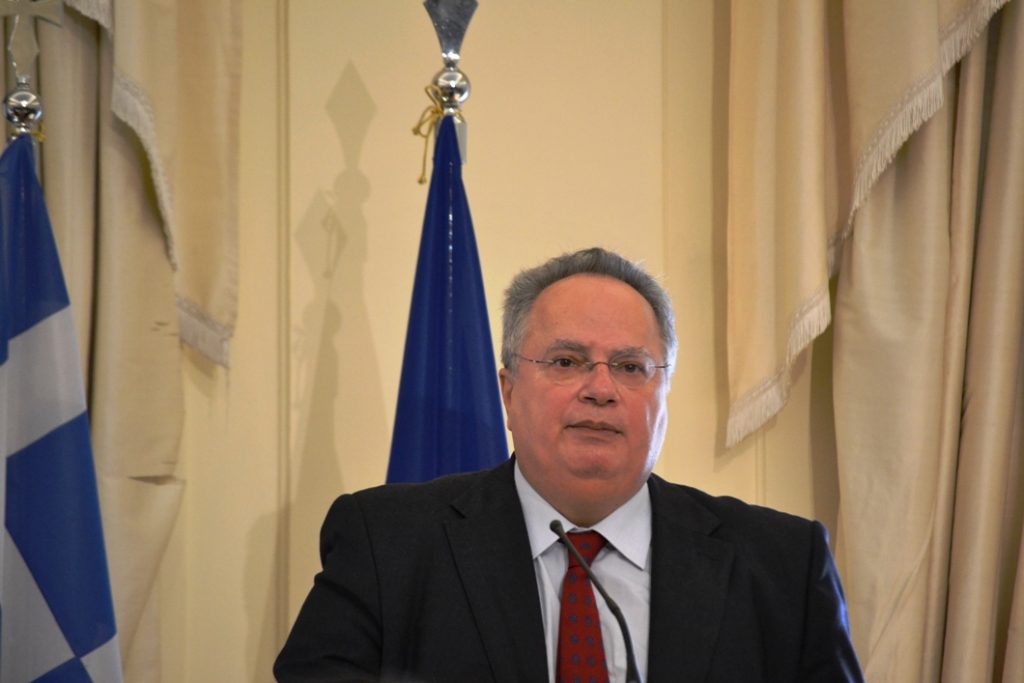 Greek Foreign Minister Nikos Kotzias will visit Tripoli, Libya on Monday 28th November where he will have talks with  the Prime Minister of the internationally recognized Government of National Agreement (GNA) Fayez al-Sarraj and Foreign Minister Mohamed Taha Siala in a bid to demonstrate Greece' readiness to support and strengthen Libya for the sake of stability in the wider Mediterranean region.
According to diplomatic sources Mr. Kotzias will focus on the need to stabilize and strengthen the Libyan cohesion and territorial integrity by promoting initiatives for the full implementation of the Libyan Civil Agreement and by rebuilding state structures, based on the security and prosperity of the country.
In the spirit of the Rhodes Conference on Security and Stability, the Foreign Minister will discuss practical ways for coordinated action and reinforcement of cooperation with the country's authorities on the basis of a positive agenda for cooperation that would contribute to the development and stability of the country.  After all, it is Greece's position that the successful management of migration flows requires addressing its root causes and the cooperation between countries of origin and transit countries.
Diplomatic sources state that he will express Greece's readiness to help Libya in building a functional rule of law institution, both bilaterally and through the EU mission EUBAM Libya (temporarily located in Tunis).
Greece is interested in the developments in Libya since these have an impact on our immediate neighbourhood.
In this context, the visit to Libya will be a further opportunity to promote the need for cooperation among states in the region.  Greece together with Cyprus, have highlighted this need as a tool to achieve understanding and cooperation at a regional level through the creation and strengthening of tripartite cooperation with partners such as Egypt, Jordan, Israel, Palestine and Lebanon.
Regarding the migration from Libya to Europe, the EU decided in June 2015 to launch the operation EUNAVFORMED SOPHIA thus halting migration flows.
So far, the results of the operation are encouraging, since this has helped rescue over 50,000 people attempting to cross the Mediterranean in makeshift boats, putting their lives at risk. Furthermore, through operation SOPHIA, the EU contributes in the Libyan authorities effort to upgrade the capabilities of the Coast Guard and the Navy, but also in the ability to deal effectively with human trafficking. Greece actively participates in this context, by providing expertise and has also expressed its readiness to train members of the Libyan forces.
Mr. Kotzias will encourage all Libyan political forces to cooperate and come together for the consolidation of peace, state IBNA sources. Especially in the current context, where there is a gradual weakening in the positions the Islamic State held so far in Libya, which is clearly demonstrated by the gradual withdrawal from Sirte. To achieve the permanent removal of the terrorist threat there is a need for coordinated action.
Finally, they will discuss issues of bilateral cooperation within international organizations but also in the areas of cultural / educational relations as well as the protection of cultural heritage, energy and trade./ΙΒΝΑ