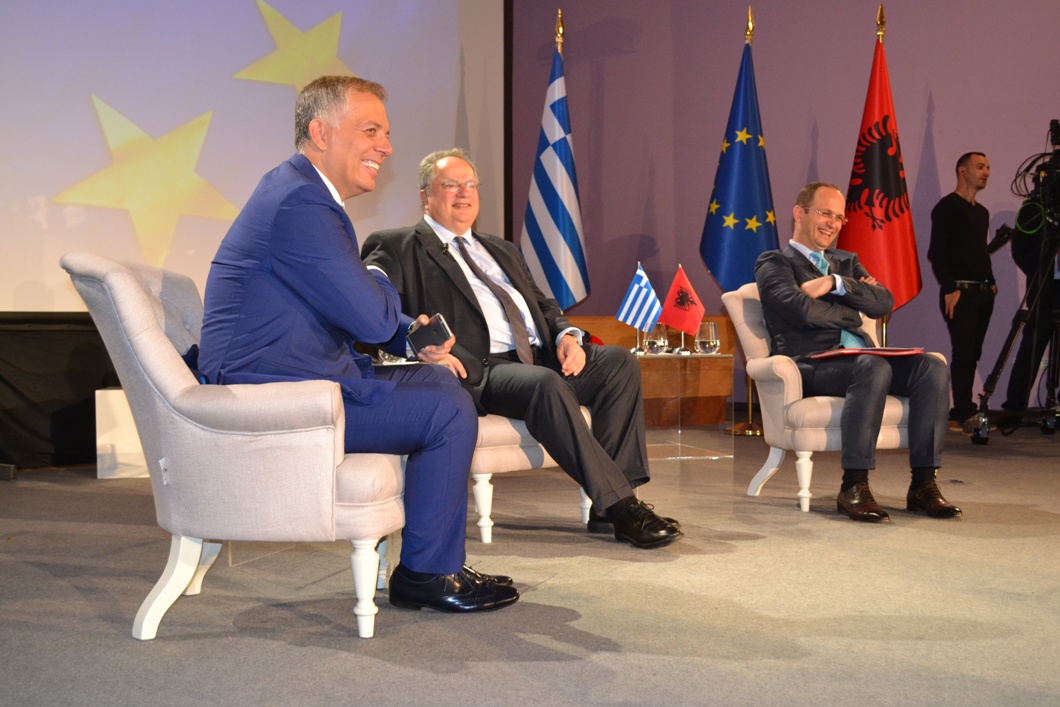 Tirana, June 7, 2016/ Independent Balkan News Agency
By Spiros Sideris
During a key note speech at an event organized by the University of Tirana on the the importance of Greek-Albanian relations for the European future of the region, Foreign Minister Nikos Kotzias expressed Greece's willingness for "old problems not to remain unresovled that could cause difficulties to the European course of Albania" and for them "to be resolved with consultation, dialogue, rationality and maturity as immediately as possible".
Mr. Kotzias referred to the three bridges that unite the two countries, the 700,000 Albanians living in Greece of whom 140,000 have taken the Greek nationality, the native Greek minority in Albania, the rights of which are a historical imperative and European perspective and, finally, the Albanian Orthodox Christian Church that is led by a wise humanist, archbishop Anastasios.
He also mentioned the key role of Greek enterprises during the 90s, promoting a social market economy in Albania and the even more decisive presence of Greece in the first decade of this 21st century during which the Euroatlantic course of Southeast Europe has begun and is already being realized. He emphasized that "despite the crisis of the Greek economy with repercussions throughout society, Greece is still by far the most powerful country in the region, and not only because of its GDP – which despite a drop of 25% is still five times greater than that of Bulgaria and ten bigger than that of Albania – but also because of the country's participation in all the western institutions and its expertise.
The strengthening of relations between the two countries, said Foreign Minister Kotzias,"will facilitate the European perspective of the region, but also future enhanced presence in the institutions and policies of the EU," explaining that Greece began 10 days ago with Bulgaria, Romania and Croatia an informal firm cooperation between the four EU Member States in the region.
Mr. Kotzias stressed that the European prospects of Albania have universal support of our country, pointing out, however, the importance of the implementation of the five EU targets that have been set, which will contribute to promoting internal reforms, but will also bring the two countries closer. Given that "the EU is a system of law," soaked in "the culture of dialogue and mutual respect, consensus and positive compromises," he explained that this needs to be developed in all the Western Balkans with Albania and Greece as a positive example, and their common way forward to overcome misunderstandings and extreme perceptions.
"Generally," said the Foreign Minister "we ought to try that foreign policy does not become hostage to internal considerations. Instead, we must facilitate mutual understanding between the two peoples and states", noting that "combating negative stereotypes in school textbooks or – the much more frequently- projected by the media of our countries is necessary".
"Any cooperation," he said "like the tango, requires two good and attentive partners, dancers. Two who want to succeed together rather than one at the expense of the other."
Referring to the two countries' Friendship Pact, the minister expressed the will of the Greek government to update and enrich it, noting: "The pact of friendship and the preamble that will incorporate this will be the confirmation of friendship and non-conflict between the two states'. "This agreement," he added "will provide for the cooperation of the two states – at least this is what our side suggests – to support the progress of Albania in the EU. Any technical solutions and clarifications will be provided in order to implement existing agreements and the convergence of expert committees where necessary. "
As to the rights of the Greek indigenous minority, Mr. Kotzias expressed hope that 'Albania on its way towards the EU will implement on time and on its own initiative the requirements of the European laws on the diffusion throughout the territory of the protection of rights starting from the right to property."
"Albania is a contemporary European country, and we want to be with her," Kotzias concluded, noting that "on the other hand, nobody should be forgetting in Albania that the country's future is linked with good relations with its southern neighbor. Nor should the capabilities and the tools available to Greece even today be underestimated. "
Photo: Spiros Sideris/IBNA