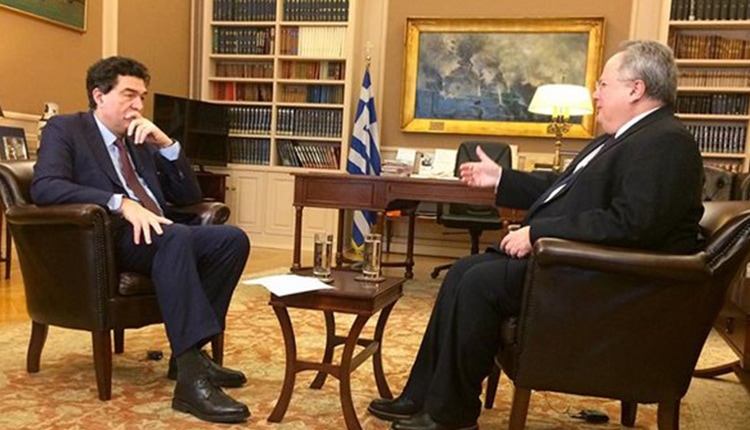 On Tuesday night, Greek Minister of Foreign Affairs Nikos Kotzias gave an interview at SKAI news station, on the "Istories" show of Alexis Papahelas.
Among other topics, FM Kotzias revealed that Turkey jeopardized the Greek – Turkey relations on the morning of Friday the 17th of February 2017, when a Turkish ship of the Turkish naval Fleet proceeded to take fire drill shots near Farmakonisi Island. As FM Kotzias said "Almost crossed the red line".
FM Kotzias characterized neighbor country Turkey as "nerve force" and added that "They should rethink of such games. What happened at Farmakonisi island is a serious infringement of International Law and I think that they should know that we will not always be that tolerant and our answer will not be the one we gave them, but harsher".
Furthermore, FM Kotzias talked about the eight Turkish soldiers that landed on Alexandroupoli airport via helicopter after the failed coup attempt on the 15th of July 2016.
He also talked about the Cyprus issue and the stance of Greek DM Panos Kammenos on the various military challenges of Turkey.
FM Nikos Kotzias said "I have characterized Turkey for the last one and a half year as a nervous force, a force just like 19th century after Bismarck Germany, when Germany was a nervous force and could not keep balance with her surroundings "and he proceeded to add that "Some people in Turkey think that Greece could become a new Syria or a new Iraq, they should know that we will not always be that tolerant and our answer will not be the one we gave them but harsher".
"We have made concertations with all the powerful forces of our planet, we have informed all the International Organizations and of course we have made all the necessary demarches towards Turkey, for crossing our borders and their behavior."
"The international environment and the International law are in our favor, these are the tools that we will never give up using. I do not want to say it again but these are not the only tools on our disposal."
"We are neither the destroyed Syria nor the disorganized Iraq. Turkey is making a mistake, they think because of our economic crisis we are vulnerable on dealing with homeland security. They are making a big mistake. Because of the economic difficulties we face, caring for the country's security and dominance is more important than in previous years."
When questioned if there is a so called "red line", meaning if a Turkish soldier or commando steps foot on the islet , FM Nikos Kotzias stated: " The "red line" is the one we have told them, red"!
When questioned if this is clear from the Turkish side FM Kotzias replied " There is always a matter, as the poet said – what the mouth says it is not certain the ear hears".
The Minister also revealed that on the same day of the interview, Turkey almost crossed red line, adding to all they have done up until now.
Could the Greek – Turkish differences be resolved by recourse to the International Court?
The Minister said: "If I was to choose between going to Court or at War I would choose to go to Court. If I was to choose between a Court and a bilateral, substantive, real agreement and an agreement procedure I would choose the second one. For now we are on the second solution. With all the difficulties that it has due to Turkey's situation."/ΙΒΝΑ